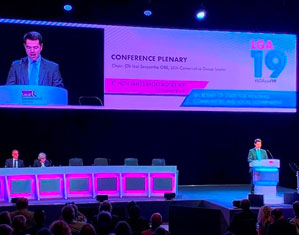 At the beginning of July, GRANTfinder joined over 1,400 delegates and 100 exhibitors at the Local Government Association (LGA) annual conference in Bournemouth. With a full, three-day schedule of over 100 sessions, plenary speakers, and an interactive innovation zone the event lived up to its nickname of 'Local Government's Glastonbury'.
Before senior local government figures gathered for the main event, the LGA report Councils Can was launched, providing a stark warning that councils in England are on course to face an £8 billion funding gap by 2025. Increasing funding pressures and uncertainty on how to continue service delivery to the most vulnerable duly took centre stage.
Top eight takeaways from the event:
1. Follow the leader
Strong local leadership was praised for continuing to service our communities in the face of unyielding pressure. Secretary of State for Housing, Communities and Local Government, James Brokenshire said: "Because whether we're talking about big national programmes on housing, transport and infrastructure or maximising local economic growth, the fight against knife crime or revitalising our high streets, it always comes back to strong local leadership." Brokenshire went on to stress the importance of humanity in delivering quality public services, as opposed to reliance on systems, processes and "pseudo motivational management speak."
Skirting past the mention of funding cuts, Brokenshire acknowledged the LGA's work in supporting the sector and emphasised government's focus on leadership and efficiency this year as part of their £19 million offer to help local authorities improve. He also announced that government would be publishing an Accelerated Planning Green Paper to look at improving capacity and capability within local planning authorities.
2. Tempest in a teacup
Using the great Bard as inspiration in his "Sea Change" speech Governor of the Bank of England, Mark Carney recounted a tale of trade-shocks, global economy slow down, and the response to a No Deal Brexit. These themes of Shakespearean proportions saw Carney compare the uncertainty of global markets with the experience of operating in the UK after more than two years of Brexit negotiations. He went on to say how trade tensions between the US and China could potentially "shipwreck" the global economy, impacting on growth and causing a widespread slowdown. In UK terms, Carney said: "Looking across the first half of the year, in my view, underlying growth in the UK is currently running below its potential and is heavily reliant on the resilience of household spending."
Carney raised caution to a No Deal Brexit, underscoring that the response of monetary policy to Brexit will not be automatic. He said: "Given the exceptional circumstance associated with Brexit, the MPC (Monetary Policy Committee) would use the flexibility in its remit to support our economy's transition as much as possible. But there are clearly limits to our ability to do so. The MPC can stretch the horizon over which it returns inflation to target but it would never do so to the point of breaking." However, Carney did express the MPC's commitment to adjusting policy in either direction, to bring inflation sustainably back to the 2% target while supporting jobs and activity during the transition.
3. Building places, not houses
Housing was high on the agenda with former chairman of the LGA, Lord Porter, stating that councils build cheaper and better homes. But the focus didn't lie solely on the government target for new builds. Brokenshire announced that delivery also depends on getting communities on board. He asserted that communities are more likely to welcome new development when it's reinforced by the right infrastructure, using the £5.5 billion Housing Infrastructure Fund as an example.
The Mayor of Bristol, Marvin Rees talked of the importance a place-based approach for local economies, stating businesses move to 'places' not just geographic locations, further highlighting the need for investment in proper place-based infrastructure. The move towards 'place-based' approaches was also evident in healthcare with the growing impact of the localised health and wellbeing boards.
4. Fail to prepare...
Ongoing political unrest has increased uncertainty of local authority sustainability. In the last decade councils have lost 60 pence out of every £1 of central government funding, while there has been an increased need in services for the vulnerable. Newly appointed LGA Chairman, James Jamieson said: "Our latest research, released today, shows that one-third of councils fear they will run out of money for statutory services by the end of this Parliament." He went on to say that this is leaving less money for councils to fund other services which prevent additional cost burdens on other parts of the public sector such as health, policing and welfare.
The plea was loud and clear from local leaders, government need to give financial assurance on vital funds that councils currently rely on, particularly what will replace the European Structural and Investment Fund (ESIF) when funding runs out in 18 months. Council leaders also asked for more long-term capital funding, rather than stop-gap revenue funds, to enable them to properly plan and budget beyond the current financial year towards a more sustainable future.
5. Prevention is better than cure
President of the Association of Directors of Adult Social Services, Julie Ogley said that unresolved funding pressures and a lack of policy steer from government has led to adult social services being in a "state of paralysis." The delay in the social care Green Paper – which has now been delayed three times, over two and half years – being blamed for the feeling of disarray.
Chairman of the LGA's Community Wellbeing Board, cllr Ian Hudspeth, said: "Those who rely on vital care and support cannot wait any longer. Councils are having to make incredibly difficult decisions within tightening budgets and cannot be expected to continue relying on one-off funding injections to keep services going. What is needed is funding certainty for both the immediate and long-term."
There were calls for the focus to be redirected from getting people out of hospital, to placing investment in preventative services. Responding to criticism, Secretary of State for Health and Social Care, Matt Hancock, blamed partisan politics for the Green Paper delay and agreed the current system is unfit for purpose.
6. Extinction rebellion
In the opening hours of the event LGA members passed a motion in support of the UN Sustainable Development Goals (SDGs) and the role of local government in delivering them. This included a declaration of a 'Climate Emergency' and a commitment to supporting councils in their work to tackle climate change. Co-leader of the Green Party, Jonathan Bartley talked of the "greenwave" sweeping across Europe in a time where reports warn that we have approximately 11 years to prevent irreversible damage from climate change.
Even the Bank of England Governor had something to say on the matter. Replying to a question about decarbonisation, Mark Carney said: "There is such a thing as a bad zero carbon transition and one of the worst is to do nothing now and try to do it all at once later. My university exam technique is not the one to follow."
7. Lawfully audacious
It is evident that local authorities are having to do things differently in the face of dwindling government support. In the Profit with a Purpose workshop, the panel shared experiences of how they delivered social value through commercial activity, generating income for frontline services as well as contributing social value to their communities. Managing Director of C.Co, Richard Harrison said local authorities need to make it clear they are open for business while having a clear vision of their purpose. He stated: "The most successful local authorities are those that understand their social outcomes and work back from there." While managing risk remains essential to the success of a council, they have the capacity to think outside of the box for the benefit of their communities, or as Cllr Sharon Taylor OBE terms it, local authorities need to be "lawfully audacious."
8. Devolution revolution
The power struggle between central and local government was the backbone of all speeches and panels. For the past couple of years Brexit has taken the focus away from devolution. The B word was uttered throughout the event but the general consensus is that councils want to get on with things and take matters into their own hands. The calls for Westminster to hand down local decision-making powers to "give us the tools to do the job" are louder than ever. As Jonathan Bartley said, the appetite to transform is growing and "the genie is out of the bottle." Chief Executive of the LGA, Mark Lloyd put it plainly: "Our record speaks for itself. Council maintained schools deliver better results for our children. Council-run public health services are improving the health of our nation. And where councils can influence the local skills agenda, businesses can grow to play a major economic role in the nation's future prosperity."
Devolution is particularly sought in rural areas where, as reported in the LGAs the future of non-metropolitan England report, communities are at risk of being left behind post-Brexit. Brokenshire promised a spending review that helped "reset" the relationship between local and central government.
The message to government was clear, if properly funded, local councils can continue to lead their communities, reduce demand for public services and ultimately save taxpayers money.
GRANTfinder had some great discussions with local councils about external funding matters on our exhibition stand where we showcased our funding services. We look forward to seeing everyone again next year!
If you didn't get a chance to speak to us and would like to know more about our funding support services, browse our website or get in touch now.