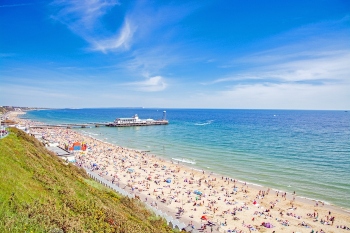 An app to check if beaches are too crowded has been launched across the UK following a successful development by BCP Council.
The council developed the app last year after it was forced to declare a a major incident after thousands of people flocked to its beaches despite coronavirus restrictions.
The app provides a live traffic light system to show which beaches are busy and which areas have plenty of space to ensure social distancing.
The Government has now provided funding to turn the BCPBeachCheck app into Beach Check UK, and it will soon include a number of popular tourist destinations elsewhere across the UK.
Cllr Philip Broadhead, deputy leader for BCP Council, said: 'BCP Council is leading the way to promote much-needed technology, in an effort to encourage the public to keep themselves safe.
'Our Beach Check app was born from our exciting Smart Place ecosystem, a programme that sets us apart, and firmly cements our reputation as leaders in innovative technology. Collaboration is at the centre of what we do, underpinned by our shared vision of an open culture and co-creation, and evidenced through our work in leading other UK towns and cities to embed smart technology to improve communities.'
Local government minister, Luke Hall, said: 'We want everyone to safely enjoy a well-deserved summer this year, while continuing to minimise the spread of the coronavirus.
'That's why the Government is funding Europe's first innovative beach check app to allow people to check whether beaches are busy before travelling to avoid a surge of visitors. This will allow coastal communities to carefully welcome back visitors and will help local areas bounce back from the hardship faced by the pandemic.'
Photo: BCP Tourism