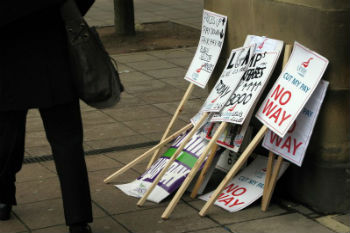 Council staff in Bromley are to strike for two days over protest at the 'mass privatisation' of services.
Trade union Unite said its members would be striking 7 and 8 April over plans for the council to 'privitise' services and cuts to staff pay and conditions. It is calling on the council to use its cash reserves to avoid the changes to service delivery.
Unite regional officer Onay Kasab said: 'Unite is drawing a line in the sand against privatisation and austerity in local government. Council services should be for the public good - and not as a cash cow for the private companies benefiting from lucrative outsourcing contracts.
'In Bromley, the company looking to take over parks is owned by a hedge fund - and they will be planning more than a bit of light pruning. They will do what hedge funds are set up to do; they will cut to the bone then scuttle away from the contract with a substantial profit.'
A spokesperson for Bromley Council previously told LocalGov: 'We are examining all our services and cost pressures to find the most effective and efficient way of delivering quality services which focus on those in the borough who need them most. This is not about 'privatising everything' but looking at alternative cost models and service delivery options to provide the best value for money for Bromley taxpayers.'