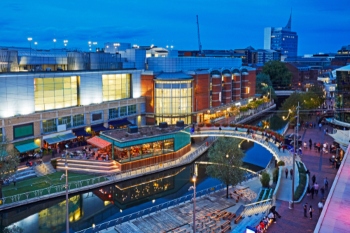 Reading Borough Council is set to block the use of permitted development rights (PDRs) which it describes as 'undemocratic' and responsible for 'substandard accommodation'.
PDRs allow changes to be made to a building without the need to apply for planning permission. They are increasingly used to permit conversion of commercial and retail premises to residential properties.
The council will today vote on introducing an Article 4 direction to large areas of the town – effective from 31st October 2022 – to prevent developers and owners from harming local communities through the use of PDRs.
Reading Borough Council argues that the use of PDRs has led to the loss of 55,000 sq m of office accommodation with a further 31,000 sq m on the horizon. The council added that office conversions often lead to substandard accommodation with little or no outdoor space and in areas that are inappropriate to live due to noise, disturbance and air quality issues.
'Owners and developers have been riding roughshod over local communities in Reading and the local planning process for many years by using PDR to force through often substandard accommodation, to the detriment of the residents and the local neighbourhoods they are located in,' said Tony Page, Reading Borough Council's lead councillor for Strategic Environment, Planning and Transport.
'This has been purely for profit with zero or little interest in the impact these conversions have on local communities and the people living in them. The damage this has caused to communities in Reading is unacceptable and cannot be allowed to continue.'
More than four in every five new PDR homes are one bedroom or studio, which the council says ignores the local identified need for homes of different sizes set out in the council's Local Plan.
The council also estimates that PDRs have cost the town nearly 600 new affordable homes along with the loss of at least £3.5m in off-site contributions to affordable housing. Nearly £4m in planning fees and education, leisure and transport contributions has also been lost since 2013.
'The council is now using the powers available to it to block such conversions from October next year, which we know will be welcomed by many residents across the borough,' continued Cllr Page.
'The Article 4 direction would apply to a number of areas across the town and, given the importance of the air quality issues in Reading, to communities with the highest NO2 levels.
'The intention of this is not to halt all changes of use or development on commercial sites to residential use. It is to give the council more control over relevant applications through the planning process, to help protect the existing office and industrial supply and to guard against conversions which are harmful to local communities.
'It will also allow the consideration of other vital planning matters – such as affordable housing or amenity space provision – to be considered with change of use applications, which would not otherwise be possible with the PDR in force.'
An DLUHC spokesperson said: 'Permitted development rights have delivered 72,000 new homes in the five years to March 2020.
'We want to make sure Article 4 directions are used appropriately and proportionately so that new homes continue to be delivered through permitted development rights and have amended the National Planning Policy Framework accordingly.'