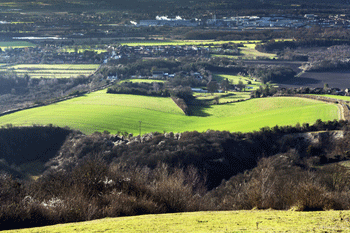 County council leaders have warned the Government not to 'overlook' the shires as it focuses on levelling up 'red wall' areas in the North and Midlands.
A new report published by the County Council Network (CCN) argues that county authorities drive economic growth in local areas, but power needs to be devolved from Whitehall to help them make a 'bigger difference'.
Written by financial advisor Grant Thornton UK LLP, the report shows that growth in county areas, as measured by Gross Added Value (GVA), has lagged behind the rest of the country by 2.6% over the last five years.
GVA in the 36 county areas has grown by 14.1% between 2014 and 2018, compared to 16.7% for the rest of England.
The research finds no clear north-south divide, as the county areas experiencing some of the smallest economic growth are Herefordshire (5.3%), Oxfordshire (5.6%) and Cumbria (8.2%), Gloucestershire (9.2%), and Wiltshire (9.7%).
Counties have also witnessed sluggish business growth, with county authorities averaging 7.9% growth over the last five years – almost half of that of the rest of the country's figure of 15.1% over the period 2014 to 2019.
The report argues that rather than focus on the 'north-side divide', Government economic and investment assessments should identify those places where the economic 'gap' is greatest – either to the national average or between different places –and focus investment decisions on closing that gap and levelling up local economies.
'Since the general election, there has been a clear focus on the 'red wall' seats that the government has won. But if it wants to genuinely back up its rhetoric and level-up England, then a narrow focus on these areas will not work,' said Cllr Barry Lewis, CCN spokesperson for economic growth.
'The levelling-up agenda cannot bypass and forget about shire counties, with many of these areas experiencing economic growth that is lagging far behind the rest of the country.
'Communities in the likes of Devon and Cornwall in the South West, to Lincolnshire and Nottinghamshire in the East Midlands need as much focus on why they have been left behind as the likes of Wokingham and Blyth.
'Today's report underlines that county authorities will have a huge role to play in the success or otherwise of this agenda. These councils know their areas intimately yet are able to deliver change through their investment and influence.
'They are the main economic players in their communities but need powers and resource – the devolution white paper provides a perfect opportunity for a step-change.'