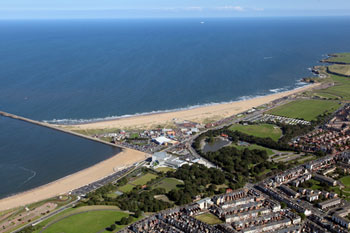 A northeastern council has green-lit the first phase of its £100m town centre regeneration, in what is being described as a 'significant' local move.
South Tyneside Council last night gave the go-ahead for construction to begin on a new central library and digital media centre alongside a new 40-space car park. The building is expected to be open to the public by 2016.
Further stages of the '365 master plan' town centre regeneration will deliver raised improved shopping and leisure sites and a new travel interchange.
Cllr Iain Malcolm, leader of South Tyneside Council, said: 'This heralds the beginning of the transformation of South Shields town centre. We know we have the support of residents and businesses and it's great that work can now begin in earnest to start turning our vision into reality.
'Our plans will reinvigorate the town centre, attract investment and create a sustainable future.'
Martin Swales, council chief executive, said: 'This is about creating an outstanding offer for South Shields. Our ambitious plans will position the town as a vibrant year-round retail and leisure destination.
'The new Central Library and Digital Media Centre will drive footfall into the town centre and act as a catalyst for further private sector investment and growth.
'This represents a significant step forward in our South Shields "365 master plan" and I'm delighted that planning committee has recognised the benefits this development will bring.'