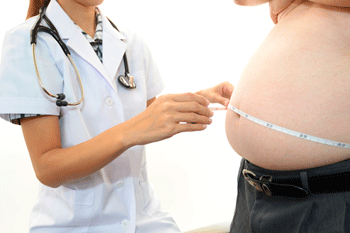 New data from local authorities shows that 64% of adults are overweight of obese in England.
The excess weight data, published by Public Health England (PHE), shows the 'considerable variation' between different parts of the country.
The data also reveals that the rate of increase in overweight and obese adults has slowed in recent years and in children, levels are stabilising.
Professor Kevin Fenton, director of health and wellbeing at PHE, said: 'Local authorities are ideally placed to develop co-ordinated action across their departments, services and partner organisations to tackle overweight and obesity in the local population.
'Many local authorities are already working hard to reduce obesity levels and these new data will help all local areas monitor their progress in tackling these longstanding problems. Public Health England is committed to supporting local government and the local NHS.'
Professor Fenton added that the cost health problems experienced by overweight and obese adults costs the NHS over £5bn a year.