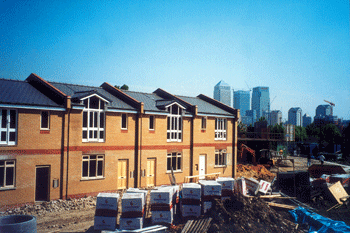 Proposed changes to national planning guidelines would lead to a 'housebuilding free-for-all', local government leaders have warned.
The Local Government Association (LGA) says the changes to the National Policy Planning Framework mean developers could be given the green light to build 165,000 new homes in areas where people have said they do not want them.
Under the Government's plans local areas will be expected to meet new housing targets imposed by Whitehall.
But if by 2020 more than 75% of the homes have not been built, developers will be able to ignore locally agreed sites and build in places not included in local plans.
According to the LGA this means they will be able to avoid requirements to build high quality houses in the right places with the appropriate infrastructure and ensure that enough affordable homes are provided.
LGA housing spokesman Martin Tett said: 'It is completely unfair to impose targets on communities which can only be met by private developers, and then to penalise those local communities if those builders do not deliver.
'This risks leading to a housebuilding free-for-all which will bypass the needs of local communities and could damage trust in the planning system.
'The Government needs to scrap these plans to avoid this alarming scenario playing out across the country.'