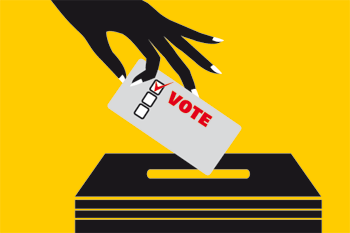 Plymouth Council has apologised after a computer problem led to over 1,500 people not receiving their postal votes.
The council became aware last weekend that a number of people had not got their postal votes in time for the General Election.
The authority issued around 370 replacement packs after being contacted by a number of residents.
However, an investigation by the city council and Royal Mail identified 1,510 people who had applied for a postal vote did not receive one.
The investigation showed that it was a database issue on their computer system.
The council made special deliveries to the 982 people in Plymouth who had not been sent their packs and to voters in other parts of the country.
They were, however, not able to deliver to 77 voters who were overseas.
'We are apologising to everyone who was affected by this problem,' a council statement said.
'There will a full independent investigation into how this happened.'
There were a number of other problems with postal votes during the election.
East Devon issued 9000 postal voting slips that did not have an official security mark visible on the front of the ballot paper on 25th May.
The acting returning officer for the East Devon constituency, Mark Williams, apologised and urged voters to return their votes.
'I apologise for the error but want to reassure postal voters that they should still complete their postal voting statements and return their postal voting envelopes back to me for validating as part of the normal postal voting process,' he said.
'To be valid, a postal vote has to be accompanied by a valid postal voting statement containing the voters date of birth and signature.
'After these are checked, the envelope containing the postal voting slip is opened and the slip is put into a sealed ballot box where it is kept safe until the formal count.
'My postal vote opening teams will ensure that all validly completed postal votes are double checked so that they will go forward to the count along with all the other votes that will be cast on polling day itself.'
More voting slips were issued on the 31st May.
Guildford Borough Council had to reissue 276 replacement postal votes after what they described as a 'very unfortunate non-delivery' issue.
In a statement the council said: 'We are working with Royal Mail at both a local and national level to resolve this problem.
'There is no pattern to the non-delivery, so it is not clear which voters haven't received their postal vote yet.
'The investigation into the non-delivery will continue after the election.'
Students at Keele University also ran into a number of problems when trying to vote.
After a number of complaints, Newcastle-Under-Lyme Borough Council tweeted that the issue was caused by some people not registering properly.
Our understanding is that people have not fully completed the registration process and therefore are not registered to vote.

— Newcastle-u-Lyme BC (@NewsNBC) June 8, 2017
A spokesman for the borough council said today: 'We have followed all proper processes both for postal votes and for online registration.
'After every election we review all feedback received and we will obviously be doing that again on this occasion.'