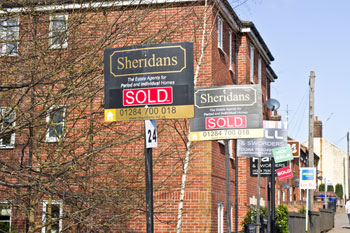 North Lanarkshire Council has announced plans to purchase up to 100 houses each year on the open market.
The scheme is designed to contribute towards efforts to meet the 'huge demand' for affordable housing in the area.
The purchases would be made in locations where there is a demand for the type and size of property in that area.
The combined cost of the purchase and bringing them up to letting standards would have to represent value for money.
'There is a huge demand for affordable housing and it's vital we look at different ways of increasing the supply of homes to help meet this need,' said Pamela Humphries, housing development manager with the council.
'We have ambitious plans to transform communities and regenerate our town centres over the next two decades, including proposals to potentially demolish our existing tower blocks and to build over 2,000 new homes by 2027.
'By purchasing good quality homes on the open market, many of which will be ex-council properties, we can help meet people's housing requirements and increase local housing supply.'
'It will also hopefully help us progress refurbishment works within mixed tenure blocks of flats,' she added.