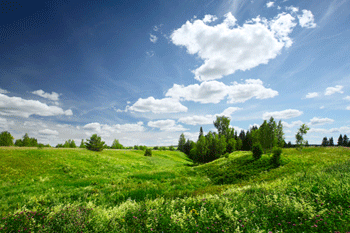 Whitehall has given the go-ahead to Birmingham's plans to build thousands of homes on green belt land in order to address the city's 'acute' housing shortage.
Housing minister Gavin Barwell has agreed to allow the Birmingham Development Plan (BDP) which will see the construction of 51,000 homes—including 6000 on green belt-designated land.
Research by the council projects 89,000 new homes will be required to meet Birmingham's housing needs over the next 15 years.
Mr Barwell said he agreed the scale of unmet housing demand in Birmingham was 'exceptional and possibly unique' and so he lifted a Holding Direction which had prevented the BDP from progressing.
The city council said that every potential brownfield site was carefully considered through their Strategic Housing Land Availability Assessment.
The secretary of state for communities and local government Sajid Javid welcomed the decision during a speech given yesterday at the annual National House Building Council lunch.
'Where local councils come forward with sensible, robust local plans – and are willing to take the tough decisions – I will back them all the way,' he said.
'For example, Birmingham City Council has put forward a plan to meet some of its local housing need by removing green belt designation from a small area of land.'
'The plan is supported by the independent Planning Inspectorate, but it's fundamentally a local decision made by local people. They've looked at all the options. They've considered all the implications,' he continued.
'They want to build homes for their children and grandchildren. And Westminster politicians should not stand in the way of that. That's why, earlier today, we lifted the central government hold on the Birmingham Local Plan.'
'This is excellent news because it means we can now get on with the vital task of building homes and delivering the jobs that our fast-growing population so desperately needs,' said Cllr John Clancy, leader of Birmingham City Council.
'This is an ambitious plan for growth which will deliver 51,100 new homes and significant new employment opportunities.'
Waheed Nazir, strategic director of economy at the council, said: 'Removing the Holding Direction is an important decision both for the city and the wider UK in terms of our ability to deliver housing growth.
'We therefore welcome the Secretary of State's endorsement of the Plan and recognition we have taken a robust approach that is consistent with national policy.'
The Campaign to Protect Rural England (CPRE) condemned the decision and said the Government should have stopped the 'significant loss of green belt'.
'This was really too late in the day for Government to change the decision,' said Paul Miner, planning campaign manager at CPRE.
'It should have intervened earlier to prevent such a significant loss of green belt.
'We believe that priority should be given to the huge untapped potential for brownfield regeneration, both within Birmingham itself and in the wider West Midlands conurbation.'
For more on this controversial topic read our feature, Do we REALLY need the green belt?