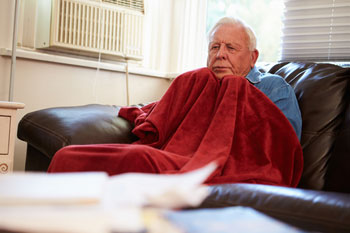 Cold spells caused nearly 6,000 extra deaths last winter due to heart attacks and strokes, new research has found.
The research, conducted by University College London and the University of Bristol on behalf of the British Heart Foundation (BHF), found cardiovascular disease events were twice as likely to occur during cold spells of three days as opposed to shorter, colder periods.
Statistics show that every week, 350 people died from heart attack and stroke between December and March - a 14% rise on the rest of the year.
BHF is calling for care workers to be extra vigilant at identifying vulnerable people who are at increased health risks during the winter months.
Professor Richard Morris, from the University of Bristol, said: 'Significantly we have found that spells of three or four days of unusually cold weather approximately doubled the risk of a major cardiovascular event, although more research is needed to understand why. Some factors made people especially vulnerable such as being a smoker or a heavy drinker.
'Health care workers need to be able to identify vulnerable people living in cold homes, and to be able to refer them to a local support service where their needs for affordable warmth can be addressed.'