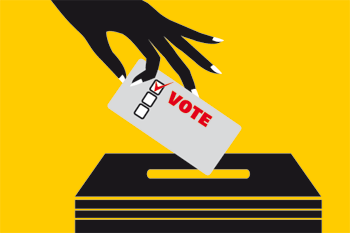 Leading UK civil society groups have united to challenge plans to block those without ID from voting.
Voter ID is expected to be introduced by May 2023 after the Government pledged to introduce legislation to 'ensure the integrity of elections'.
However, groups including Stonewall, Liberty, Electoral Reform Society (ERS), Operation Black Vote, NUS, Silver Voices and more, argue the Government's proposals for mandatory voter ID are a 'dangerous distraction' that will 'bring up the drawbridge to millions of ordinary voters'.
According to these civil society organisations, the plans, which will cost up to £20m per general election to implement, could see 3.5 million people who lack ID locked out of the ballot box, while making it harder for everyone to vote.
In a joint statement, these organisations said: 'We are writing to express our deep concern about Government plans to force voters to show ID at the polling station – or be denied a vote.?
'According to official figures, 3.5 million citizens do not have access to photo ID and 11 million do not have a passport or driving licence.
'As the Government has often made clear, voting is safe and secure in the UK – making mandatory voter ID a solution in search of a problem.
'Instead, these proposals will turn polling workers into de facto bouncers – a role they do not want to have, and which raises its own risks of discretion and discrimination.'???
Dr Jess Garland, director of policy and research at the ERS, said: 'Figures across the political spectrum and civil society are rightly standing up to these costly and undemocratic plans. When millions of people lack photo ID, these proposals would make it harder to vote.
'They risk disenfranchising a huge swathe of the public – which is why groups representing a wide range of society are sounding the alarm.
'Instead of spending millions of pounds each election to lock down our polling stations, we should be closing the democratic divide and boosting political engagement. This coalition has one clear message to ministers: rethink this warped priority and scrap this dangerous ID policy.'