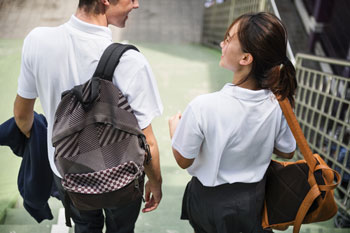 A charity has called on city leaders to prioritise making school walking routes safer as parents claim their cities are 'too unsafe' for children to walk to school in.
New research from Living Streets, the charity responsible for the Walk to School Week campaign, has found 30% of parents living in the UK's biggest cities believe their city is unsafe for children to walk to school in.
Previous research by the charity has shown almost 60% of parents are worried about speeding cars outside of school, and a third (33%) are worried about their child's safety because of overcrowding outside of school gates.
The majority of parents (82%) think there should be more schemes to make the walk to school safer and easier.
This comes at a time when, according to the British Heart Foundation, one in three children leave primary school overweight or obese, and just one in five achieves the recommended daily amount of physical activity.
The Government has set a new national target to get 55% of children walking to primary school by 2025.
'The walk to school is a great way for children to get active in the mornings. It's easy, free, accessible and it can be fun too!' said Joe Irvin, CEO, Living Streets.
'It's essential that city leaders make all of our streets, including those around schools, safe places to walk, by installing 20mph speed limits and safety crossings.
'We know that a lot of parents avoid walking to school because of high levels of traffic outside the school gates.
'The more of us walking to school, the safer conditions will be, so this week we're asking families to give walking a go for Walk to School Week.'