The UK's housing crisis, the changing face of high streets and our increasing population, particularly amongst the over 65s, are all putting increasing pressure on our urban centres. This is leading to a rise in regeneration projects across the UK, as the private and public sector work together to modernise towns and cities for these changing times.
Our increasingly multi-generational communities require careful planning and consideration to maximise wellbeing for all. The Global Wellness Institute's 2018 Build Well to Live Well report , highlighted that the global market for wellness-focused real estate is expected to be worth $198 billion by 2022; demonstrating that this is an increasing focus for many new developments.
However, in order to maximise wellbeing in the conurbations of tomorrow, we should look beyond modern wellbeing principles, and consider what we can learn from more traditional masterplanning methods.
Many would consider the concept of placing wellbeing at the heart of design to be a modern phenomenon, however the roots of this idea can be traced back to ancient civilisations, such as those of Greece and Rome. By taking inspiration from these civilisations of the past, we can help to build health and wellbeing for all demographics into the fabric of our towns and cities of the future.
In ancient civilisations, infirmaries were often placed at the heart of the built environment, close to where people would live and work. Meanwhile, temples were highly valued buildings that also often took a central position in urban settlements offering the opportunity for regular community gatherings. In Roman cities, public baths in the heart of urban areas provided a place to wash, exercise and socialise; centralising amenities for the benefit of the community.
These elements help to demonstrate that many ancient civilisations were built with wellbeing at their core, and this centralisation of amenities is something that we must learn from in modern design.
Over recent decades, our societies have become more fractured. Many cities have increasingly become a playground exclusively for younger generations, while older people have moved out to the suburbs. Similarly, while high streets were booming, urban centres focused increasingly around retail and commercial uses, rather than serving the community to improve health and wellbeing.
However, this is starting to change. Health provisions are shifting to increase the number of community services in towns across the UK, through new initiatives like NHS Live Well Hubs. Some towns and cities are already delivering greater dispersion of other healthcare estates too and community hospitals are easing pressure on acute care facilities, mirroring the close-to-home care of ancient towns.
Masterplanning is adapting too. For instance, green spaces, which were a central feature of towns in the past, are increasingly a core element of new schemes. These spaces improve health and wellbeing by enhancing people's connection to nature and encouraging walking and recreational activity.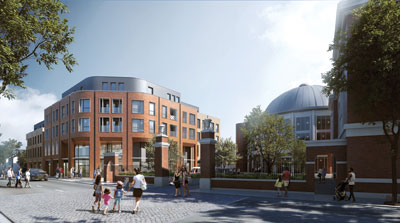 At our Manor Street scheme for Braintree District Council (pictured), prioritising healthcare provisions and building a strong connection with nature were central to our design. The mixed-use development provides a brand new health provision for the local community, alongside 35 new homes, a 70-room hotel, new bus interchange, two-storey car park, and enhanced public realm. The new healthcare facility is designed to meet the future needs of Braintree's growing population. In addition, traditional preventative healthcare services as well as Mid Essex CCG's first Live Well Hub will provide residents with access to more integrated health and wellbeing services.
These new amenities are brought together by a publicly accessible garden which forms the centrepiece of the scheme, offering a place to sit and relax, complementing the existing public amenities offered by the library, museum and historic Grade II listed Braintree Town Hall. By taking inspiration from the past we've been able to ensure that the scheme is fit for modern communities for years to come.
Meanwhile, at Westwood Village in Thanet, Kent we are working to design a scheme comprising 1,430 new homes. This includes 50 units for specialist housing and a two-form entry primary school and secondary school all built around a new open space with pedestrian and cycle routes.
When masterplanning the scheme, we wanted to respond to the existing environment while creating an attractive and sustainable place that enhances the daily life of residents. The large, open central space at the heart of the scheme provides a key community interaction area while green corridors spread to the edges, providing recreational and ecological routes, with areas of play distributed throughout. This complements the generous landscaped boundaries featuring trees, native hedgerows and wildflowers to increase the area's biodiversity. The scheme provides a wealth of walkable destinations and safe, healthy streets due to its smart landscape design.
By putting wellness at the core of the scheme's design, we've been able to give Westwood Village its own identity, while also ensuring it will appeal to young professionals, families and older generations looking to move to a town with renewed vibrancy. This demonstrates the way in which universal design principles of the past can have a significant positive impact on the health and wellbeing of modern communities.
Many councils are already considering how best to regenerate places to meet the needs of communities as urban populations grow and the high street continues to change. This provides a natural opportunity for wellness to become a key facet of the design of these regenerative efforts. But to do this effectively, bringing attraction and purpose back to our town centres is vital.
Residential, retail, leisure and commercial spaces all have an impact on our wellbeing, while the role of healthcare estates is adapting to offer improved preventative care. Combining skillsets from across multiple sectors can provide the expertise and diverse range of opinions required to ensure that wellness is effectively implemented into any regeneration efforts, as well as needed to help transform towns with these changes and new insights in mind.
These mixed-use approaches to regeneration naturally take influence from the way towns and cities were planned in the past. Creating a futureproofed focal point that centralises amenities and cultural offerings, improving community engagement and social cohesion by bringing people together in revamped public realm that promotes a feeling of pride amongst residents.
This mixed-use approach has paid dividends for a number of local authorities. Our regeneration scheme at Chester Northgate is an example of this. This project for Cheshire West and Chester Council bolsters the city's cultural and community offering, with the first phase offering a new market, six-screen cinema and a host of new restaurants, with a design that centres these elements around a public square.
The scheme places health and wellbeing at its heart, taking inspiration from nature with a green living wall that acts as a focal point for its generous public realm offering. The new market maximises natural light throughout, incorporating a roof of timber and glazing, continuing the theme of natural materials present throughout the design and creating a sense of place for customers.
Chester Northgate offers a tangible example of the possibilities that mixed-use regeneration can offer. Centralising cultural offerings and other amenities for the community at an accessible point in the city, with a design that is tailored to maximise the health and wellbeing of the people that use it.
This scheme shows that by combining the varied benefits across sectors and taking inspiration from the design principles of the past, local authorities can ensure health and wellness is effectively placed at the forefront of our future towns and cities.
Dominic Manfredi is director at AHR
This feature first appeared in Public Property – sign up here for your own free digital copy.