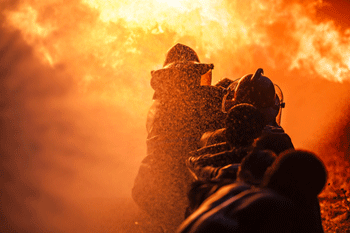 Dangerous and cheap hoverboards could lead to a Christmas tragedy, fire chiefs warn.
Fire authorities are advising people not to buy cheap versions of the popular gadget after it emerged faulty versions are causing fires.
The Local Government Association (LGA), which represents all 46 fire authorities in England and Wales, is warning that more than 80% of hoverboards tested by Trading Standards have been deemed unsafe, with more than 38,000 of them being stopped from entering the UK.
Their chargers and batteries have sparked a number of fires, including causing £25,000 worth of damage to one person's kitchen after a hoverboard overheated while charging.
Hoverboards are usually £300 to £600, but there are many cheap and dangerous replicas available around Christmas.
Cllr Jeremy Hilton, chair of the LGA's fire services management committee, said: 'Hoverboards are top of Christmas wishlists for many people this year, but these exploding gadgets can cause major fires which puts lives at risk.
'Trading Standards teams at councils nationwide have been working hard to stop dangerous hoverboards entering the country, but people are able to buy them online from unofficial websites.'
'With major retailers pulling them from sale' Cllr Hilton continued, 'we are urging people to think twice about buying a hoverboard because of the significant fire risk associated with them.
'Anyone who has bought one should check the plugs conform to British safety standards and should never leave the boards charging unattended or overnight when asleep.'he added.
Anyone who believes they may have bought an unsafe hoverboard should call Citizens Advice on 03454 04 05 06.