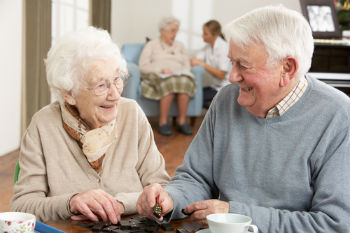 New research has revealed 'stark variation' at both the local authority and regional level when it comes to the quality of care homes.
According to a new analysis by Independent Age, the North West is the worst performing region in England when it comes to the proportion of satisfactory care homes, while London is the best performing region.
The older people's charity also found in some areas such as Stockport or Salford, older people and their families face little choice of quality care, with three in five homes rated not good enough.
The charity based their analysis on Care Quality Commission (CQC) inspections of care homes which rate homes as either 'Outstanding', 'Good', 'Requires improvement' or 'Inadequate'. They regarded homes rated 'Requires improvement' or 'Inadequate' as being poor performers.
The North West contains seven of the eight worst performing English local authorities on care home quality, with one in three care homes across the region performing poorly.
The North West (33.6% of care homes performing poorly), Yorkshire and The Humber (32.2%) and South East (28.2%) are the worst performing regions of England for care home quality.
London (20.3% of care homes performing poorly), the East of England (20.8%) and the South West (21.1%) are the best performing regions for care home quality.
The research also discovered that five local authority areas have more than half of homes rated 'Inadequate' or 'Requires improvement': Stockport (62.9% of homes), Salford (61.5%), Tameside (54.8%), Manchester (51.3%), and Kensington and Chelsea (50%).
Five local authority areas have less than 5% of homes rated 'Inadequate' or 'Requires improvement', including three that have no care homes with those ratings: Isles of Scilly, Islington and Rutland (0%), Richmond upon Thames (2.3%) and Thurrock (2.9%).
Independent Age said it believes the main drivers for care home quality variation includes factors such as low levels of funding by local authorities, low pay and difficulty recruiting staff.
It also cited the lack of a good support mechanism for improving care homes that are struggling as a problem.
On the question of the social care funding crisis, the charity pointed out that the care homes market is now valued at nearly £16bn, but social care is facing a £2.6bn funding gap by 2019/20.
'No one should be forced to live in an unsatisfactory care home but our analysis shows this is the grim reality in some parts of the country,' said Simon Bottery, director of policy at Independent Age.
'The market is simply not providing a decent choice for older people and their families but there is little indication that local authorities or the government are giving the problem the attention it deserves. Money is likely to be one cause but not the only one.
'The Government has an opportunity to address this in its upcoming Green Paper on social care but, in the meantime, councils must demonstrate that they understand the reasons for care home failures and are working to resolve them.'
Responding to the findings, vice chair of the Local Government Association's Community Wellbeing Board, Cllr Linda Thomas, said: 'The regional variations in care home performance highlighted by Independent Age's report are a concern and something councils take very seriously.
'However, it is important to note that the Care Quality Commission's most recent state of care report found that across the country more than 70% of social care services are rated 'Good' or 'Outstanding' and only 2% as 'Inadequate'.
'This report looks at all care homes, and although councils commission a significant proportion of places in care homes, nationally more than 40% of places in care homes are purchased by individuals not councils, and not all care homes have contracts with councils.
'The fees councils pay, the contracts they manage and the support offered, all contribute to performance levels.
'But crucially, it is the way in which services are run by providers that is the most critical factor in ensuring a high quality of care.'
Cllr Thomas also noted that this report reinforces the need for an 'urgent review' of adult social care funding.