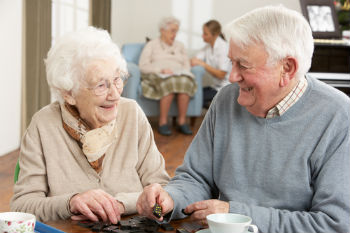 Most residents of care homes are happy with the way they are looked after, according to health watchdogs.
But Healthwatch England warns that too few homes are 'getting the basics right every time.'
The watchdog added that many failed to respond to its concerns, suggesting a 'worrying culture of apathy towards the views and experiences of residents'.
The findings come after its staff and volunteers visited 197 homes in England for residents ranging from elderly people with dementia to those with severe learning disabilities.
Their report 'What's it like to live in a care home?' outlines ways make small, low cost changes to improve life for residents.
Healthwatch England national director, Imelda Redmond, said: 'Getting the basics right doesn't have to cost the earth and should be the least we should all be able to expect for our loved ones and ourselves should we need care support.
'Even the best homes we visited aren't perfect, and it is vital that managers and care staff regularly speak with their residents to work out what's going well and where they might need to improve.'
Social services directors welcomed the 'insightful' report which they said would help deliver improvements, but said the government must improve funding for care homes.
Margaret Willcox, president of the Association of Directors of Adult Social Services, said: 'While it is not all about funding, the very difficult financial state of social care clearly impacts on the quality of services, and this report is a reminder of the need for government to address this for the short and longer term without delay.'