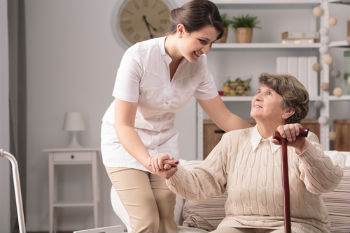 Half of England's large care home providers have at least one in four failing homes in their network, according to a consumer watchdog.
Research by Which? has revealed that out of 54 providers operating at least 12 homes in England catering only for the over-65s, some had half or more of their homes classed as 'inadequate' or 'requiring improvement' by the regulator.
Based on CQC inspection data, the watchdog's research also found two of the biggest providers - Four Seasons Group (43rd) and Orchard Care Homes (49th) - finished near the the bottom of the rankings.
Out of Four Seasons' 167 homes, 35% were rated as inadequate or requiring improvement by the CQC. Almost half (46%) of the 44 Orchard homes were, according to Which?, 'not up to scratch'.
The worst performer was Ideal Care Homes. More than three in five (63%) of their 16 homes were classed as 'inadequate' or 'requiring improvement'.
Avery and North Yorkshire County Council had all their homes rated as 'good' or 'outstanding'.
Small homes have weathered the social care crisis more successfully than their larger counterparts.
Just 13% of English homes with 10 beds or fewer were rated as 'inadequate' or 'requiring improvement', but for homes with 120 or more beds, 41% were below par.
'This study sadly reflects the harsh reality of the social care crisis, which is affecting the quality of care provided and its availability,' said Cllr Izzi Seccombe, chairman of the Local Government Association's (LGA) Community Wellbeing Board.
'It is a further warning on the sustainability of the care market, which is becoming increasingly fragile.
'There is an urgent need for genuinely new funding and long-term reform of the sector if councils and providers are to address the severity of challenges facing the provider market to ensure people receive high quality care at the right time and in the right place for them.'
'There is an estimated £1.3bn funding gap between what providers say they need and what councils currently pay,' said Cllr Seccombe.
'This is an immediate and annually recurring gap that is impacting on the system today, and part of a wider annual £2.3bn shortfall that adult social care will face by 2020.'