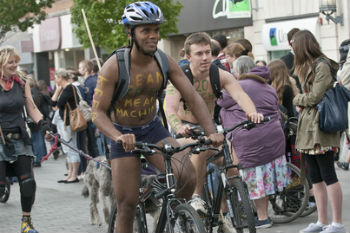 Canterbury City Council has come under fire for warning people to stay away from the city centre over the weekend if they offended by nudity due to a naked bike race taking place.
The council tweeted the warning yesterday, saying: 'World Naked Bike Ride in Canterbury this Sat, 3pm to 5pm. If this event is likely to offend you, pls steer clear of the city'.
However, local businesses said the warning could stop being coming into the borough and could have a negative impact on the local economy.
Benji's Sweet Store tweeted back that the council was trying to kill local shops, calling it 'prudish old farts'.
The World Naked Bike Race is organised to protest against global dependency on oil and to raise awareness of the vulnerability of cyclists on the roads.
However the organisers have been forced to issue a statement on its website setting out rules for the events following 'inappropriate' behaviour last year. This includes the banning of face masks, the requirement for riders to carry clothing in case they drop out of the race and a new start and finish point. It also warns that those becoming 'aroused' should pull over and cover themselves immediately.
Photo: Clive Chilvers/Shutterstock.com