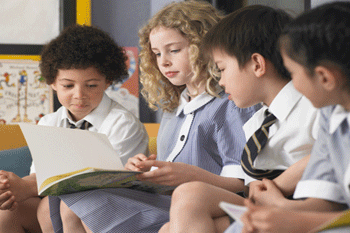 The authors of a new report have called for an end to a 'postcode lottery' that means summer-born children have to start school aged four.
Pauline Hull and Michelle Melson said the problem was caused by ambiguity in the 'not fit for purpose' school admissions code.
The authors highlight a 'nationwide scandal of flouted primary legislation, inconsistent policies and practices, and a detrimental back door lowering of England's compulsory school age by up to a year for some children'.
They point out that academics have found that starting formal education too early 'can be damaging for many children'.
The report was published by the campaign group Flexible School Admissions for Summer Born Children, which called on the Government to 'act urgently'.
The authors said: 'It is irrefutable that summer born children can lawfully start school at age five in reception class and experience a full primary school education, but by failing in its responsibility to ensure that all primary legislation and EU law is fully communicated and adhered to by every admission authority, the Government is allowing admissions discrimination and unfairness to continue.'