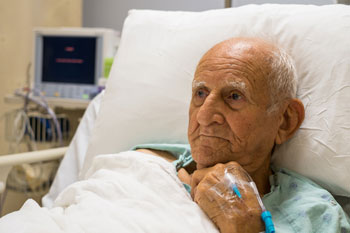 Council and health leaders are calling for £600m to free up thousands of hospital beds this winter.
In a letter to ministers, the organisations warn people who are ready to be discharged from hospital risk having to stay longer than needed, if vital additional funding is not confirmed this month.
In April, the Government invested £600m in community services to allow people to be discharged from hospital and treated in or close to their homes. The new approach guarantees four weeks of care support for each discharged person.
Figures shows this approach freed up 30,000 hospital beds and 4,000 frontline nurses.
However the organisations, which include the Local Government Association, warn these services will need to scaled back or stopped altogether if the discharge to assess funding isn't matched for the next six months from October.
Matthew Taylor, chief executive of the NHS Confederation, said: 'The interaction of health and care systems is complex and can be controversial, but this is an approach that has been proven to work. With the NHS facing a mammoth backlog of care and with the government committed to unveiling a comprehensive social reform package in the autumn, this is surely not the time to be cancelling an initiative at the boundary of health and care that has worked so well.'
The letter has been signed by the NHS Confederation, NHS Providers, Healthwatch England, the British Red Cross, the Local Government Association, and Age UK.