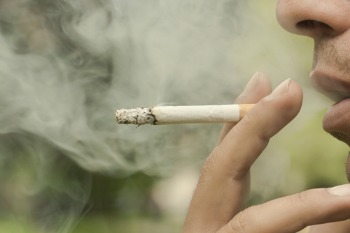 Smoking should be banned in public places such as parks and outside schools, according to a new report on how to cut the number of people who smoke.
The Royal Society for Public Health (RSPH) is calling for new measures to tackle smoking such as a smoking exclusion zone around certain public spaces. It says that a third of smokers would be more likely to use safer forms of nicotine in these areas if the measure was adopted.
The report also calls for shops selling cigarettes to be forced to also sell Nicotine Replacement Therapy, warning only 1% of stores that sell tobacco currently sell safer forms of nicotine. RSPH also urges local authorities to have more power to remove the licence of retailers not acting in accordance with tobacco legislation.
Stopping smoking by using other sources of nicotine states: 'The appearance of individuals smoking combustible tobacco products in public places arguably gives the deeply misleading impression that smoking is a largely safe activity to be universally enjoyed. By reducing the prominence of smoking in public locations, particularly those visited by children, we can ensure that smoking is no longer seen as a normal or safe activity.
'The RSPH therefore calls for the smoking ban to be extended further to include school gates, the outside areas of bars and restaurants and also, all public parks and squares, mirroring the calls made by Lord Darzi in the 2014 report by the London Health Commission.
'This could be achieved through legislation to introduce smoking exclusion zones, in which smoking combustible tobacco products is prohibited, but the use of an e-cigarette in this zone is permitted.'
The report highlights the fact when smoking was banned in doorways to bars, cafes and restaurants and in Central Park in New York, smoking rates were cut from 22% to 15% in 10 years. It says a similar policy in Hong Kong also saw a 7% reduction in smoking rates.