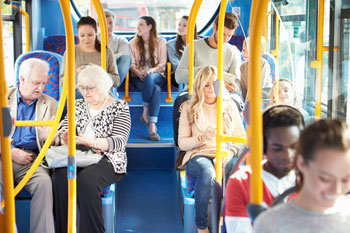 Councils have renewed calls to be given more say in how bus services are run after the latest figures showing the number of people using them at their lowest level for a decade.
Government data shows there were 4.31 billion bus passenger journeys made in England for the year ending June 2019 – 30m fewer journeys than in the previous year and the lowest number since 2007.
The Local Government Association (LGA) is calling on the Government to give councils and communities the powers and funding to take control of their local bus services.
The LGA says providing automatic access to franchising powers to all areas would help councils to protect and improve local bus routes, which provide a lifeline to older and vulnerable people.
It is also concerned that the decline in bus passenger journeys could cause increased congestion and poorer air quality in local communities.
LGA transport spokesman, David Renard, said: 'Most residents want to see councils take control over how bus routes operate in their local area.
'With proper funding and by giving all councils oversight through automatic franchising powers, councils will be better placed to reverse the decline in passenger numbers and enable more people to use the bus services they cherish and rely on all year round.'