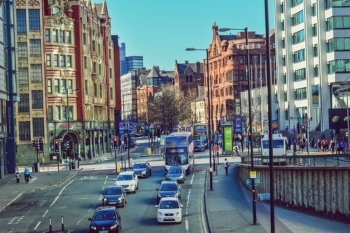 Greater Manchester (GM) mayor Andy Burnham has 'put local taxi drivers first' by adding them to a list of vehicle operators who will initially be exempt from the region's Clean Air Zone (CAZ), despite claims that it will 'kick-start the city region's green revolution'.
The plan, which is due to come into force on 30 May 2022, already exempts private cars and motorcycles from charges, while vans, minibuses, GM-registered coaches and wheelchair-accessible taxis were already exempt until 2023.
Eventually, vans, buses, coaches, taxis, private hire vehicles, minibuses and heavy goods vehicles that do not meet emission standards would pay a daily charge to travel in the zone, which is said to be 'designed to improve air quality by encouraging upgrades to cleaner vehicles'.
The CAZ covers all roads within the region, except those on the strategic road network, although the Government has now agreed to include sections of the A628/A57, which pass through the villages of Hollingworth and Mottram.
Transport for Greater Manchester (TfGM) said that 'following consultation and protracted negotiations with government, GM has increased funding support per vehicle for HGVs, coaches, vans, GM Hackney cabs and [private hire vehicles'.
Mr Burnham said: 'We listened hard to what business owners wanted and, as a result, taxi drivers are being given more time, more funding and more options.
'This is part of our wider commitment to put GM-licensed hackney and private hire drivers first, and to lobby government to give us the powers to ensure that only locally licensed drivers are able to operate here.'
Andrea Lee, clean air campaigner of campaign group ClientEarth, said: 'Illegal air pollution has been putting people in serious danger for too long. While it's positive that Greater Manchester will finally be introducing a Clean Air Zone, the proposed Zone remains blind to the biggest source of air pollution in the region: private cars.
'It's also introducing so many exemptions that suggest that the mayor and other local leaders have not really grasped the importance of protecting people's health even after the impacts of the Covid-19 pandemic. With cities like London and Birmingham already taking action to tackle all the most polluting vehicles, Greater Manchester's plan pales in comparison - and people's health will continue to suffer.'
TfGM said that over £120m in government funding has been secured to help businesses upgrade to compliant vehicles and that the region's plans for fully-integrated 'Bee Network' have moved a step closer with bike-share company Beryl confirmed as city-region's cycle hire delivery partner, delivering one of the largest schemes outside London.
This article first appeared on Transport Network
Photo: Marina J / Shutterstock.com