Women working in the construction industry are very much in the minority, but they could be a valuable source of much-needed skills. Mark Whitehead attended a round table discussion focusing on the issue and considering some solutions.
As discussion began at the round table gathering being held in the elegant surroundings of the William Morris Gallery in Walthamstow, north east London, the point of the event was clearly summed up. The question being asked, the chair said, was: 'Why are there so few women in construction, and what can we do about it?'
Some figures underlined the problem: out of nearly 2.3m people employed in the industry, less than 13% are female and men earn on average £11,000 more than women in similar roles. Given that scenario, it is perhaps not surprising that only a small minority of young women would consider a career in the industry.
Participants at the round table, titled Women in Construction, included representatives from the local Waltham Forest council, school and college leaders, industry executives and senior officers of professional bodies.
These included the event's sponsor, the multidisciplinary property services company NPS Group which delivers social infrastructure projects through joint ventures with local authorities and other public sector bodies.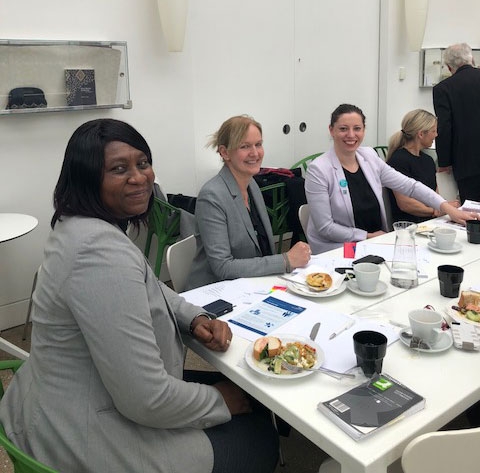 In a discussion covering a wide range of issues, the first topic for consideration was what part education and training might play in overcoming the problem of women's under-representation. Attention focused on the stereotypical ways boys and girls are encouraged to see their roles.
It starts at an early age. One participant told how she googled 'toys for boys' and the first site to come up featured a mechanical digger - while 'toys for girls' presented a cookery set as the ideal present. 'The first stumbling block we have is getting girls to open their eyes to what they can do,' the participant said. 'We have to challenge their expectations.'
Several of those round the table commented on the role of careers advice, saying the reason girls often do not consider the building trade is because it has never been suggested to them. It was generally agreed that it is vital for work experience opportunities in construction to be offered to girls so that they can see for themselves what is involved.
It was suggested that construction needs rebranding, as while the industry is often seen as dirty and dangerous, in fact nowadays it involves a lot more than what takes place on building sites. Increasing complexity and the growing use of computer technology in a range of functions is altering the kinds of skills required - making many roles in the industry more potentially attractive to girls.
'Children love to build and create things,' one participant said, 'but nowadays they spend most of their lives in front of a computer screen. Making the link between construction and technology can help to make it more attractive.'
Getting girls actively involved in the kind of roles needed in construction is vital, it was agreed. People from companies often go into schools to talk about their industries, but taking part in real work makes a difference. The round table was told of a visit to Finland where 12-13-year olds ran their own companies at an educational centre, carrying out all aspects of the operation and being responsible for the outcomes - and it was noticeable that girls were playing dominant roles.
The question was raised of what will happen when the UK leaves the EU. Many workers were already leaving the country ahead of Brexit and the need for skills would rise sharply, it was suggested, creating a labour shortage similar to what occurs in wartime, when women were summoned to do the work traditionally done by males. 'There is a war for skills coming,' one participant warned, 'and we need to bring women in to help close the gap.'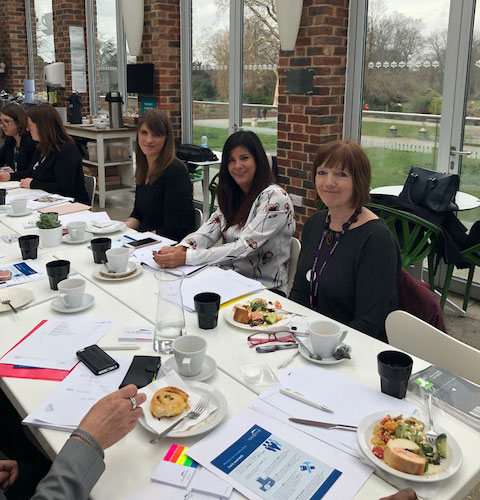 Another potential barrier to girls and women entering the construction was the way apprenticeships are set up. They tend to be based on a full-time model and this makes them more restrictive. By not allowing for part-time and flexible working many women, especially if they are caring for children, are effectively barred. This lack of flexibility also militated against adults taking up apprenticeships - 'there is a perceived or actual ageism with apprenticeships,' one participant warned - which would discriminate against women with families to support.
Not only that, the round table heard, but the current model also had a stigma attached to it - apprenticeships are often regarded as meant for people who could not go to university. 'There needs to be more flexibility to accommodate people's different lifestyles,' it was suggested.
Women need to be a 'disruptive force' to open the door for those who want to go into the construction industry, one participant said - and to keep up the pressure. 'Just because we've opened the door a crack doesn't mean it's going to stay open. It could close back again.'
The discussion then took an important turn: we need, it was suggested, to find out from girls themselves why most of them do not consider a career in construction. Was it because it is seen as male-dominated, or because it is thought to be not flexible enough for family life?
'We need to talk to girls to find out what the barriers are and whether they are real or perceived,' one participant suggested. 'We need to talk to women who have worked in construction but then decided to do something else.'
Discussion focused on the barriers to women reaching senior levels in the industry and the 'old boys network'. Decisions are often made by men while drinking or at the golf course, while women often find themselves with care responsibilities that makes socialising outside work hours difficult for them. This means they often arrive at a meeting well prepared, only to find decisions have already been made.
Then there was the question of confidence. 'We are far too shy about shouting about what we're good at,' one participant suggested. 'We have a huge challenge in getting women to think we are good enough.'
A useful point was made about voice coaching: it can make a huge difference to confidence if you learn how to project your voice properly, several participants agreed. Assertiveness training had a role to play: 'We have to be realistic,' it was suggested. 'For the time being the majority of people in the industry are men. We need more training and confidence building to help women get on while being true to themselves and not just trying to be like a man.'
A positive note was added when one participant said that sometimes men in interviewing panels are keen to help women succeed. 'As a woman on a shortlist you can be in a very good position', she said.
Nevertheless, the picture is not always so encouraging. A recent incident was described in which a woman being interviewed was asked if she planned to have a baby. 'It's illegal, but it happens,' the round table heard.
Concluding the discussion, the group agreed on an action plan to help tackle some of the challenges identified at the round table event:
• set up network of volunteers to visit schools and get girls more exposed to the construction industry.
• investigate similar initiatves in other areas/countries
• set up a group to lobby the Mayor of London and MPs on how they can help bridge the skills gap and deliver their infrastructure ambitions
• prototype a project such as the one in Scandinavia within Waltham Forest to change the perception of construction locally
• write to MPs about statutory maternity and paternity pay within the industry
• offer leadership development to SMEs
• incentivise women to be mentors
Delegates to the event:
Elizabeth Eyre - Editor for Builders' Merchants News magazine
Marina Robertson - Operations Director at NPS London
Cllr Clare Coghill - Leader at Waltham Forest Council
Maxine Smith - Deputy Head Teacher at Waltham Forest College
Lucy Shomali - Director for Regeneration and Growth at Waltham Forest Council
Claire Holmes - Group Director HR at NPS Group
Marian Asare-Bopaeh - Owner of Rabmaris Ltd
Meryl Davies - Head teacher at Walthamstow School for Girls
Rebecca Davey - Head of Employment and Skills at Waltham Forest Council
Jan Gill - Senior Manager at Brent Council
Donna Owen - National Sales Manager (previous Recruitment Lead) at NPS
Group
Tina Salmon - General Manager at Mitre Construction
Dorrian O'Neill - Business Development Consultant at NPS Group
Amy Leader - Chair at RICS Matrics