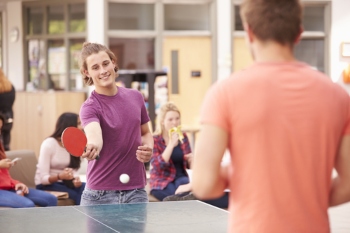 A £560m cash injection for youth services and the funding of 'family hubs' in England to support children and parents have been confirmed in today's Budget.
Chancellor Rishi Sunak said his package 'was enough to fund up to 300 youth clubs across the country' as well as offering more money for childcare providers and early years staff training and development, and included £200m to support 300,000 families who face complex issues that could lead to family breakdown.
He said the Government would invest an extra £200m in the Supporting Families programme, and provide over £200m a year to continue the Holiday Activity and Food Programme.
Mr Sunak also announced a surprise cut to the Universal Credit taper rate, saying it would boost spending on UC claimants by £2bn and would mean that a single mother of two, working full time on the national minimum wage, would be better off by around £1,200.
Mr Sunak told the House: 'The evidence is compelling that the first 1,001 days of a child's life are the most important… We are responding today with £300m for a Start4Life offer for families, high quality parenting programmes, services to help with perinatal mental health and funding to create a network of family hubs around the country.
'To improve the quality of childcare we're going to pay providers more, with today's Spending Review providing an extra £170m by 2024-25. We're confirming £150m to support training and development for the entire early years workforce.'
The chancellor said today's Spending Review 'also delivers our commitment to schools', with an extra £4.7bn by 2024-25, 'which combined with the ambitious plans we announced in the Spending Review of 2019, will restore per pupil funding to 2010 levels in real terms, equivalent to a cash increase for every pupil of more than £1,500.'
Mr Sunak said that for children with special educational needs and disabilities, 'we are more than tripling the amount we invest to create 30,000 new school places'.In addition to the £3.1bn already announced to help with education recovery, the chancellor said he was today confirming a further 'just under £2bn of new funding' for schools and colleges, bring total support to almost £5bn.
Speaking before the Spending Review, Labour's shadow education secretary Kate Green said family hubs were 'a sticking plaster for a fractured childcare and children's services landscape'.
She added: 'This supposed commitment rings hollow after 11 years of Conservative cuts have forced the closure of over a thousand children's centres, cutting off the early learning that sets children up for life.'
Chief executive of the Early Intervention Foundation Jo Casebourne called the extra £200m to expand the Supporting Families programme, 'a much-needed cash injection into a struggling system of support for children and families'.
She said it was crucial that the programme 'is carefully targeted, focusing on improving the quality of support and developing greater understanding of what support makes a real difference'.
Ms Casebourne said it was important to use the opportunity provided by the expansion of the programme 'to develop much-needed evidence on what works most effectively to support vulnerable families'.
She added: 'We still know far too little in the UK about how best to reduce the risk of abuse or neglect and there have been too few high-quality evaluations of the type that are needed to understand what works.
'Today's expansion of the programme is a crucial opportunity to change this. If we do not evaluate different ways of delivering the programme and then focus on using the support that is proven to work, there is a risk that we get to the end of the period that the Spending Review covers and realise that not much has changed for the families this investment is supposed to help.'