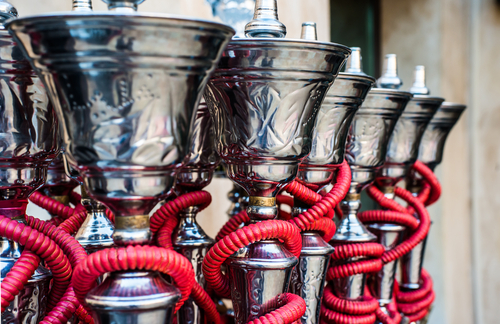 Customers in some of Birmingham's shisha bars experience pollution levels higher than those in 'smog-hit Beijing', report says.
An investigation by researchers at the University of Birmingham discovered dangerous levels of carbon monoxide and fine particulate matter in 12 shisha bars across the city.
Both of these substances are connected to respiratory illnesses, such as lung cancer and bronchial asthma.
The study revealed levels of toxins were higher than those experienced in pubs and bars prior to the smoking ban, introduced in England in 2007.
Birmingham City Council commissioned the report in a bid for more power to tackle smoking indoors.
Under current legislation it is illegal to smoke in an enclosed public space but, the council argues, the current maximum fine of £2,500 is not enough to discourage the practice.
Jacqui Kennedy, acting strategic director of place for Birmingham City Council, said: 'We do take enforcement action under the smoke free legislation but existing legislation isn't necessarily the best way to tackle this issue.
'The maximum fine is £2,500 but some of these businesses can make that in just one night and we don't have closure powers – even as a last resort.'
She added: 'Of course this isn't always about enforcement. We also want to educate businesses and their customers on the dangers and we now have the evidence to take to the Department of Health and Chartered Institute for Environmental Health to underline the risks.'