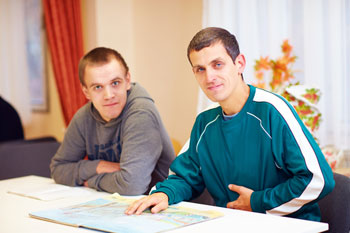 An inquiry into the impact of the Autism Act a decade after its introduction has revealed that two out of three autistic adults are not getting the support they need.
The inquiry, published by the All Party Parliamentary Group on Autism (APPGA) and the National Autistic Society, surveyed around 11,000 autistic adults and their families in England.
It found that 71% of autistic adults in England were not getting the support they needed and that while a quarter required support to live more independently, only 5% received this.
The Autism Act, alongside other laws like the Care Act, entitles autistic people in England to the care and support they need.
However, the National Autistic Society argues that the results of the APPGA's inquiry shows that not enough has been done locally and nationally to make sure that the Act is being enforced.
According to the APPGA's findings, while 20% of all autistic adults need support with day-to-day tasks, like washing, cooking and going out the house, only 6% get this.
Around 38% of autistic adults need support from social groups. However, only 16% have this support.
Only one in 25 get buddying or befriending despite 29% requiring this, the APPGA discovered.
Jane Harris, director of external affairs at the National Autistic Society, called for specialist autism support in every council in England to ensure that the Autism Act is properly implemented.
'Years of underfunding to social care and poor understanding of legal duties has limited the impact of the landmark Autism Act,' she said.
'Our joint inquiry with the All Party Parliamentary Group on Autism found that two in three autistic adults don't get the support they need. We heard awful stories of people struggling to get support and then becoming isolated and developing mental health problems, like anxiety and depression.
'Families are trying to plug the gap, but are being left with too much to do and autistic people are ending up needing urgent intensive help. In some of the worse cases, people even end up being sectioned - simply because there's nowhere else to go.
'Autistic people are being left behind. This is simply not good enough. We need specialist autism support in every council in England and immediate investment into the social care system.'
Cheryl Gillan MP, chair of the APPGA, commented: 'While the Autism Act (which I introduced 10 years ago) has made a difference, there is clearly still more work to do to ensure autistic people can access the support they need to live the lives they want.'