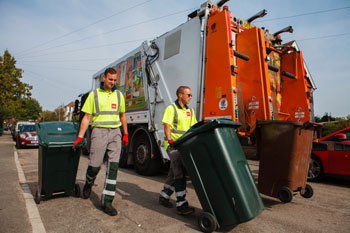 73 councils in England already meet or exceed the EU recycling rate target of 50% of household waste by 2020, but more investment is needed if this progress is to continue, according to GMB.
The union argues that while a lot of progress is being made in recycling, more investment in vehicles and equipment and safer methods of working are needed to protect workers in the sector.
The data, published by the Department for Environment, Food and Rural Affairs (Defra) for the year 2014/15, shows that in the 320 councils in England, out of the total household waste of 23,169,167 tonnes some 10,117,005 tonnes were sent for recycling, composting or reuse.
The top ten councils for recycling were: South Oxfordshire District Council where 67.3 of household waste is recycled, Vale of White Horse District Council (65.6%), Rochford District Council (65.2%), Surrey Heath Borough Council (63.3%), Three Rivers District Council (63.2%), Trafford MBC (61.9%), Stockport MBC (60.7%), Calderdale MBC (60.4%), Stratford-on-Avon District Council (60.3%) and North Somerset Council (60.1%).
The ten councils in England with the worst record for recycling household waste are: Gosport Borough Council (23.5%), Barking and Dagenham (23.4%), Portsmouth City Council (22.7%), Hammersmith and Fulham (20.7%), Wandsworth (20.7%), Bassetlaw District Council (19.2%), Westminster City Council (19.1%), Newham (17.2%), Lewisham (17.1%), and Council of the Isles of Scilly (14.1%).
Justin Bowden, GMB National Officer for refuse and recycling workers, said:
'We are well on the way for many councils to meet the EU target for the UK to recycle at least 50% of waste generated by households by 2020. In addition to this, for the first time more waste is incinerated with energy recovery (30.1% of all local authority collected waste) than has been sent to landfill sites (24.6%). Although recycling is preferable, it still means less waste being sent to landfill.'
Describing the recycling sector as the most dangerous in the country to work in, Mr Bowden said:
'GMB's research tells us two things. First, we need a sharing of expertise and knowledge, which is vital to bring the recycling underachievers up to the levels of their peers. Second, to raise recycling levels even further, and make this sector safer, requires more staff to be employed, more investment in vehicles and equipment and safer methods of working to keep those providing these vital services safe.'