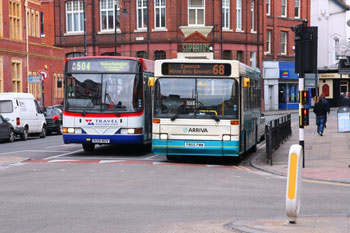 The Government has announced a change in legislation that will ensure free bus passes for older and disabled people will be protected for the future.
The English National Concessionary Travel Scheme means bus passengers aged over 65 or with a disability have been entitled to travel free of charge on any off-peak local service in England since 2007.
However, in its current form, the legislation needs to be renewed every five years - a clause which leaves the scheme vulnerable to being discontinued in the future.
Today's amendment will prevent this from happening, Whitehall has claimed.
'Being able to get out and about is hugely important for older and disabled people to keep their independence and play a role in their local community,' said buses minister Nusrat Ghani.
'Buses help connect people, homes and businesses and nearly 10 million people in this country are already benefitting from free off-peak bus travel.
'The legislation underpinning our important bus pass scheme is now set for the future, meaning this group will be able to access their local services and amenities.'
However the Local Government Association (LGA) warned it was costing councils £200m to subsidise the scheme.
Cllr Martin Tett, the LGA's transport spokesman, said: 'It is becoming impossible for councils to pay £200m a year to subsidise the scheme while having to find billions of pounds worth of savings and protect other vital services like caring for the elderly, filling potholes and collecting bins.
'Faced with significant funding pressures, many across the country are being forced into taking difficult decisions to scale back services and review subsidised bus routes.
'The Government must fully fund the free bus pass scheme or the most isolated members of our community could find themselves with a bus pass but no bus to use it on.'