Since the emergence of COVID-19, the way we go about our daily lives has changed significantly. Some of us are having to adapt to working from home and we're all having to get used to wearing masks inside public places, while remembering to adhere to social distancing guidelines. And unfortunately, it looks like this will be the 'norm' for quite some time. So, how do we adapt our public buildings to keep these spaces clean, safe and operational for end users now and in the future? Janet Lowe, Head of Marketing UK and Ireland at Forbo Flooring Systems, explains how this can be achieved through the specification of floor coverings.
The choice of flooring impacts the maintenance of facilities and therefore plays a major role in ensuring that buildings remain clean and operational. But that's not all, in fact, since the pandemic began, the flooring can actually help people to adhere to government guidelines. For example, the UK government suggests introducing one-way systems at entry and exit points, as well as in common areas to aid wayfinding and encourage single-file circulation through buildings, which will help to reduce the risk of cross-contamination. While temporary floor stickers and markers can be used, these can quickly fade or start to peel off, and so there are now more robust solutions available that allow arrows to be incorporated into new and existing floor designs to nudge people in the right direction, without being too forceful or demanding.
At Forbo, we have developed a service for our Tessera Layout and Outline carpet tile collection and our resilient sheet ranges. The service allows you to choose carpet tiles that feature directional arrows within the design, or have loose arrows cut into existing resilient installations or resilient materials.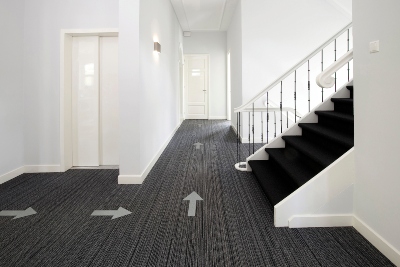 What's more, while COVID-19 will undoubtedly change the design and navigation of public buildings, open plan spaces may also need to be modified. Through the incorporation of zoning, floor coverings in different laying patterns and colours can be used to highlight and separate different areas, which will help to limit the number of unnecessary interactions and potential spread of viruses.
And in queues, perhaps in libraries, hospitals or even schools, the use of circle shapes on the floor can help to encourage end users to remain a safe distance apart. In fact, our Allura LVT collection is available in circle shapes, which are inlaid within a square tile format, to achieve this easily.
However, when it comes to physically reducing the transmission of viruses, there are solutions available that are naturally bacteriostatic and can inhibit the growth of bacteria, such as Forbo's Marmoleum collection.
A result of the natural raw materials it is made of, Marmoleum offers constant protection against bacteria, including MRSA, E-coli and the development of dust mites without the use of chemical additives. Furthermore, the bacteriostatic qualities of Marmoleum are an inherent property of the product and won't diminish over time, which provides peace of mind and constant protection from the moment it is installed.
The COVID-19 pandemic has presented new and unprecedented challenges for the UK. With the whole world having to adjust their lives to remain safe and prevent the spread of the virus, concerns and complexities now exist as a result of this. However, with the correct floor coverings and cleaning regimes, local authorities can work together with suppliers to achieve COVID-secure public buildings.
For more information about Forbo's COVID range please visit www.forbo-flooring.co.uk/covid
This article was sponsored by Forbo Flooring Systems