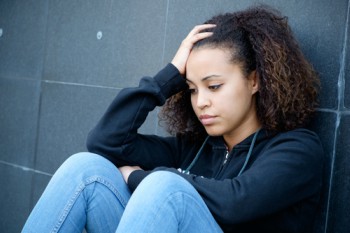 Local agencies often fail to spot the signs of neglect in older children, sometimes seeing them as the 'problem', a new report has warned today.
The joint report, from Ofsted, HMI Constabulary and Fire & Rescue Services (HMICFRS), the Care Quality Commission (CQC) and HMI Probation, finds that older neglected children are not always receiving the protection and support they need.
It said some local agencies were failing to understand the impact neglectful parenting can have on a child, such as being more vulnerable to exploitation and being drawn into criminal activity.
Yvette Stanley, Ofsted's national director for social care said: 'Some older children we saw had been neglected by their parents over many years. These children are incredibly vulnerable. They can seem 'resilient' and appear to be making 'lifestyle choices', when they are in fact finding unsafe ways of coping, like getting involved in gangs or misusing drugs and alcohol.
'Behavioural issues must, of course, be dealt with. But unless local agencies consider the role of neglectful parenting, and take action to address it, as well as supporting children in a way that recognises the impact of their traumatic childhood, then their chances of a successful future will continue to be low.'
The report calls for a 'whole system' approach to identifying and preventing neglect, better training for professionals in identifying the signs of neglect in order children and a more co-ordinated approach from local agencies.
In response, cllr Roy Perry, vice chairman of the Local Government Association's Children and Young People Board, said: 'This report helpfully shines a light on a particularly challenging and complex area of safeguarding practice, and also highlights some positive examples of strong joint working in a number of areas.
'While understanding of the needs of older children has undoubtedly increased in recent years, this report is also clear that there is more to be done. It is vital that all agencies, at local and national level, work together closely to ensure that risks are identified early and addressed appropriately.'