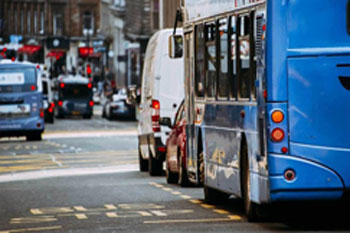 The Scottish Government's £500m Bus Partnership Fund to deliver bus priority infrastructure has opened for applications.
The fund was established to enable local authorities, in partnership with bus operators, to use bus priority measures to tackle the negative impacts of congestion and increase patronage.
The initial funding tranche is expected to pay for development of local appraisals and business cases and so the application process is 'designed to be light-touch', Transport Scotland said.
However it added that 'applications will also be considered for quick wins: i.e. smaller infrastructure projects which already have an evidence base and which are aligned to the longer-term vision'.
In accordance with the Place Principle, adopted by the Scottish Government in 2019, bidding partnerships must take 'a collaborative, place-based approach to the proposed developments'.
The funding criteria also states bids must be from 'partnerships working towards Bus Service Improvement Partnership (BSIP) status, as defined by the Transport (Scotland) Act 2019'.
There must be a lead local authority as accountable officer for the funding and the infrastructure projects will be owned by local roads authorities. Authorities can apply here.
Although work on the fund had been paused due to the COVID-19 pandemic, ministers reaffirmed their commitment to the programme in the Programme for Government.
Transport secretary Michael Matheson said: 'We are committed to achieving a just and green recovery and I believe that supporting bus travel is key to that.
'As set out in the National Transport Strategy, the benefits of bus, particularly to addressing the climate emergency and tackling inequality, are clear. The Bus Partnership Fund is a key part of delivering on the priorities outlined in the strategy.
'I believe that a strong partnership approach is essential and I want to see ambitious proposals placing bus priority at the heart of our sustainable transport future – linking with active travel alongside further action and investment from local authorities and bus operators.'
This article first appeared on Transport Network