Sure Start may be celebrating its 20th anniversary, but with a life full of twists, turns, ups, and downs, where exactly are Britain's children's centres today?
Initially introduced in 1998 by the Labour Government, Sure Start started life with a £450m investment into the development of 250 children centres, to be built over a three-year period. Pitched with positive philosophy, the aim of the programme was to improve the lives of some 187,000 children from contrasting financial backgrounds - but with a main focus on childhood poverty and social exclusion.
On launch, Sure Start targeted 20% of the UK's most deprived areas, where leaders of the initiative calculated that an impressive 51% of children living below the poverty line would be helped as a result. However, early evidence published in 2005 suggested that the programme failed to have the impact the Government had first hoped for – whereas conflicting evidence started to reveal the benefit of Sure Start for child development, thus indicating the start of the tumultuous life the programme would have.
Parenthood and community
Children's centres were developed with the needs of the community in mind, operating on a flexible basis to fulfil the wishes of parents and children locally. What's more, the centres extended family support, outreach, home visiting healthcare advice, together with good quality play and childcare for the under-fours, not forgetting support for families with special needs. In a short time frame, they became a life-line for those using the centres.
In fact, there are many examples of how Sure Start have improved the lives of those using the service. At Ann Tayler Children's Centre in Hackney, an Early Years Music Project for Sound Connections was ran over 12 months between 2011 and early 2012, allowing young children and parents to meet and play. Because of this, parents found their children interacted with one another better, developed their language skills and made new friends.
Further research conducted in the Holme Wood Children's Centre, found that the language development team made an exceptional impact, with 100% of parents reporting a positive change in their child. 83% of parents also saw their child's sociability increase, whilst 86% saw their child's mental and emotional health improve.
By looking at these statistics, it's easy to see why parents and families rely on the service so strongly: they give children a vital stepping stone into the world while supporting parents through what is potentially the toughest part of their child's life.
By 2005, those managing the service started to show cracks, stating they did not know how complex launching a programme like Sure Start was going to be – citing inability to fulfil the demands of all service users, as the main reason for it slipping out of their control. This, coupled with ongoing evaluations, which found teenage mothers, lone parent households and workless families were put off the service through 'hijacking' from parents higher above the poverty line.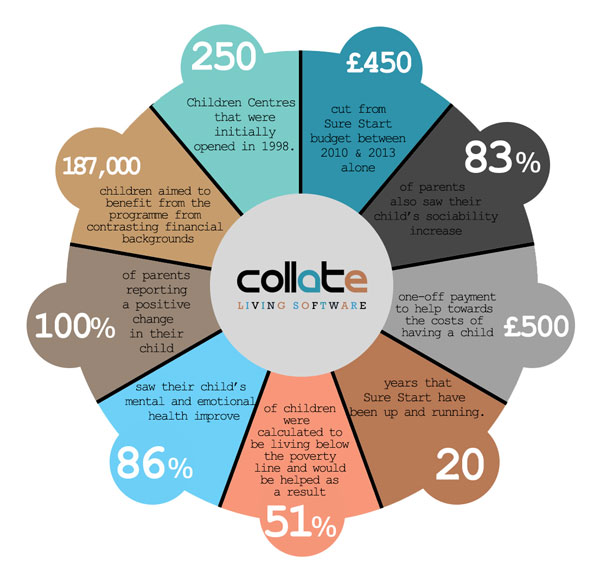 Budget cuts
Despite a few changes to make all feel welcome, the programme wasn't supported enough, and by 2010 the Tory government began to place budget cuts on the programme, leading to some serious changes. In 2011, there were plans for a trial payment-by-results scheme for centres ran by parents and communities. The funding for the programmes was also handed over to local authorities, placing them in charge of all financial decisions.
In the first two years of the coalition, more than 400 centres closed down with £430m cut from Sure Start budget between 2010 and 2013 alone. Officials argued that only 25 of the 401 closures were 'outright' closures - but the merging and condensation of services quickly reduced the overall effectiveness of the programme, impacting outcomes and primarily, children's lives. Fast forward to today and over 350 children's centres have closed fully, with only eight new centres opening to replace them.
What's more, recent spending has reached an all-time low, with a 47% reduction, demonstrating how Sure Start is hanging on by a thread.
Lack of investment, lack of care
A complete lack of investment into early years education, ignites concern as to whether the Government have child care and development in mind. It's vital to give those, with less access to services, the best possible start in life, and the Sure Start initiative is one that evidently works. Looking at the positives and the success stories from parents who use the service and from children who have been in its care, Sure Start is evidently a vital lifeline that has provided more than just a 'stay and play' group.
The future?
So where do we go from here? For many families there is still access to the services we do have left, so let's use them to the best of our ability. Make sure the teams and centres aren't overworked - ensuring the good work they can do is as effective as possible.
Focus on increasing productivity and pave the way for teams to enhance their performance as a whole, by working together and sharing advice - quickly improving outcomes for vulnerable children and their families.
We may not have Sure Start forever, but whilst we do, let's take the time to appreciate how incredible this system is, what it has done for thousands of families nationwide and how it has changed the lives of many vulnerable children forever. Governments may continue to remove centres, but it can't remove memories, and most importantly, it can't remove the positive outcomes created by the team members, who worked so hard to deliver them.
Martyn Allan is managing director at Collate Systems.