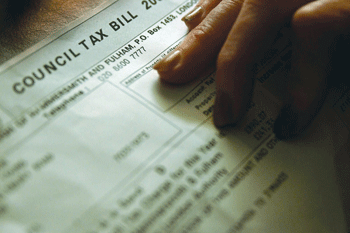 Scottish council proposes 18% hike in council tax after a nine-year freeze in an attempt to save frontline services.
Moray Council is the first local authority in Scotland to indicate that it intends to raise council tax in order to balance the budget without making huge cuts to services.
The council had been facing a financial shortfall of £6.8m for the year ahead but that figure rose to £11.9m after the Scottish Government announced last month that local government funding would be cut by 3.5% this year.
Cllr Stewart Cree, Moray Council leader, said: 'The administration group has examined all realistic options very closely, but this level of financial reduction has placed an entirely new dimension on our deliberations.'
'While we will continue to look at further efficiencies,' he continued, 'we have to recognise that there is no way we can achieve this level of savings by efficiencies alone.
'Equally, we do not believe that the people of Moray should have to see the services and facilities that they cherish so much continue to deteriorate and that is why we have decided to consider increasing council tax to a level that would protect services both now and in the future.'
A council tax increase of 18% would raise £5m next year, which—when combined with £5m from reserves and £1.9m worth of savings—would balance the budget for 2016-17.
Cllr Cree acknowledges there will be a £1.1m penalty imposed on Moray by the Scottish government. But he says this 'pales into insignificance' when compared to cutting services.
An 18% rise would see the council tax for an average Band D property increase from £1135–where it has been pegged since 2007–to £1339. A Band A property would go up from £756 to £892 and a Band H from £2270 to £2678.
Cllr Cree admits there has not been any public consultation on this question, but says he believes the people of Moray will understand the difficult situation.
'In this case, where no consultation was offered by the Finance Secretary and due to the extreme and pressing nature of this further funding cut by the Scottish Government, we apologise that we will be unable to bring these matters to the public in time for next month's budget meeting.
'However, I know full well from previous budget consultations that the Moray public values very dearly the services and facilities which the council provides and that is why I am confident that they will see the good sense in paying a little extra in council tax to ensure that these services and facilities are not eroded further.'