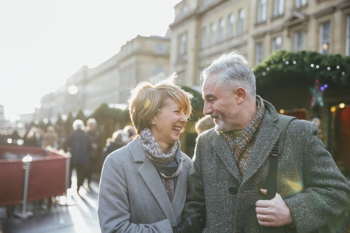 More should be done to slow the flow of older people from urban areas to rural and coastal communities, a think tank has argued.
In a new report, the Social Market Foundation (SMF) said new urban retirement housing should be developed to help older people spend their later years in town and city centres.
It shows that by 2043, several coastal and rural local authorities will have a majority of households that are retired creating an unequal pressure on services and local economies.
SMF said there is a lack of suitable housing for older people in the UK, with around two million suffering physical and mental ill health due to living in substandard and non-accessible homes.
Scott Corfe, research director at SMF, said: 'The trend for older people to flee from urban areas to the coast or the countryside can have unforeseen consequences. Too many retirees end up in unsuitable, oversized and often unsafe homes, while rising property prices exclude younger families from local housing.
'Local authority areas where the majority of residents are over 65 could struggle to provide their populations with adequate services, and such communities may lack cohesion and intergenerational mixing.
'Housing options that allowed more older people to choose to retire in towns and cities would offer benefits to retirees, to urban economies and to wider society.'