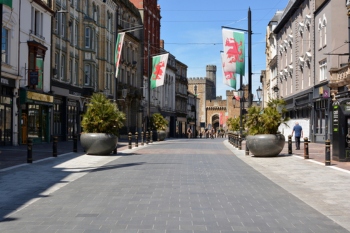 A new economic vitality index has revealed that Wales managed to weather the COVID-19 pandemic better than the UK's other home countries.
Data from Evaluate|Locate, which rates every location across the UK on the basis of 96 economic metrics, shows that in the period from 1 March 2020 to 1 October of this year the economic vitality index (EVI) rating for Wales grew by +1.1%.
In contrast, during the same period England's rating slipped by -1.3% followed by Scotland (-1.9%) and Northern Ireland (-3.8%). Across the whole of the UK, the economic vitality index was down by -1.5%.
'The economic vitality performance of the home countries during this period are relatively tightly grouped and, to a large extent, reflect how the Government's fiscal and other measures have softened the economic blow of the pandemic,' said Duncan Lamb of the consultancy behind the index, JPES Partners.
'However, in the past month, the model is already showing an accelerated deterioration of economic vitality as those pandemic measures are withdrawn. When you drill down to the town-by-town, city-by-city detail, it becomes clear that lockdown had an uneven impact and this trend is becoming more accentuated.'
Analysis of all UK towns and cities during the study period shows that St Helens in Merseyside saw the highest index rise of 14.8% with its rating increasing from 94.2 to 108.1. This was largely fuelled by a rise in active new businesses; demand-led growth in house prices; and strengthening workforce statistics.
In stark contrast, the index for Greater London rose by only +0.3% from 223.6 to 224.4. This sluggish economic activity was largely the result of a lack of commuters and tourists.
The UK's other major cities struggled with similar problems. Only Liverpool with an index uplift of +9% together with Birmingham (+7.4%) and Glasgow (+6.6%) showed index increases of substance. Elsewhere, there were modest uplifts for Edinburgh (+2.7%) and Bristol (+1.5%). Newcastle remained virtually unchanged at +0.1% while Leeds fell by -2.0%.
Despite Wales' economy weathering the pandemic fairly well when compared with England, Scotland and Northern Ireland, Cardiff's vitality score dropped by -8.4% as it also struggled with diminished commuter and visitor activity.
Photo: ThreeEyedRavenProductions / Shutterstock.com