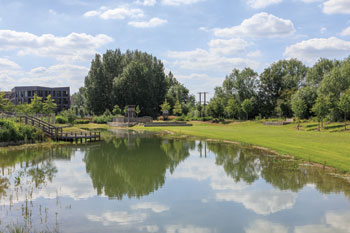 Headlines following the latest United Nations report on plant and wildlife decline have underlined the need to adopt more sustainable ways of living and working, with one million species globally facing extinction from human activity. This need is particularly acute for development projects.
Balancing ecological protection against housing targets is not easy, but achieving good environmental practice alongside satisfying community needs is crucial to delivering places that will stand the test of time.
The Government is now taking action. In his Spring Statement, the chancellor announced that, once the forthcoming Environment Bill is passed, all new developments will have to deliver an overall increase – a net gain – in biodiversity, covering plant and animal species.
In practice, this means a biodiversity assessment of the local area in the pre-application stage of development to categorise and value the condition of different habitats. Development plans will then have to increase biodiversity values, or projects won't be approved. These regulations mark a major shift in the way schemes are planned and delivered. While some councils are already taking measures to achieve biodiversity net gain, others will need to rapidly get up to speed.
Ahead of legislation, Grosvenor and Oxford City Council have been working to deliver biodiversity net gain at our Barton Park site, an 885-home urban extension in Oxford. We've learnt lessons from the experience, and there are important takeaways for other local authorities too.
A commitment by all parties to meet ambitious targets is vital from the outset and sustainability is core to the partnership's ethos. Oxford City Council is targeting at least five per cent biodiversity net gain on new development sites in its draft Local Plan, while Grosvenor has committed to becoming climate-positive by 2050.
Practically at Barton Park, we have used the Defra Metric developed by Warwickshire, Coventry and Solihull councils to compare pre and post-development biodiversity and ensure our proposals add to the local environment. Getting the site's planting strategy right has been critical, taking a naturalistic approach that creates a pleasing aesthetic for residents while also protecting wildlife. We've delivered a net gain in the number of trees, introduced new shrubs and wildflowers, as well as retaining and linking three existing hedgerows – a vital habitat for invertebrates and small mammals. There's also a new four-hectare park opening this summer for residents to use with ponds and flowers. Blending wild and cultivated green space in this way provides for the site's human inhabitants without neglecting local ecology.
Mitigating flood risk is crucial for any development but good waterway management can also enhance habitats. We've preserved the running water of Bayswater Brook, creating an appropriate home for otters, reptiles and invertebrates. Sometimes even more direct intervention is needed to bring animals in, and we've also relocated a sett to encourage badgers.
The preference should always be to achieve biodiversity gain onsite, but this must be balanced against local needs as well as what's in the best interest of wildlife. At Barton Park, Grosvenor and Oxford City Council are delivering 40% of new homes for social rent to meet housing demand. As one of ten demonstrator sites in NHS England's Healthy New Towns programme, we're also seeking to improve health outcomes for new and existing Barton residents through the scheme's design and investment in local services. To balance the demands of complex infrastructure and deliver these social targets, including much-needed new homes, the decision was taken to invest in off-site ecological interventions. This also provided a more tranquil space for biodiversity to flourish, strategically situated further away from the settlement.
We're working to maintain and preserve Sydlings Copse, a Site of Special Scientific Interest to the north of Barton. At Marston Hamm, just down the road, we're restoring ancient hay meadows and have undertaken works with the landowner's agreement to open up the land to the public, achieving a 110% biodiversity gain and creating a new asset for the community.
Net gain targets might seem daunting, but councils and their partners should remember that investing in biodiversity doesn't just benefit the environment – it can help meet wider socio-economic targets too. Providing vibrant, purpose-led, diverse green spaces improves the mental health of residents, supports physical fitness by encouraging them to get outdoors, and gives people a place to get together and feel like part of a community.
At Barton Park, we have created a neighbourhood where people can exercise and relax, supporting council objectives to promote active lifestyles and provide community spaces while easing the strain on wider health budgets – and all at a net gain to the environment too. We hope our model will provide inspiration to other councils, developers and investors to do the same.
Alex Robinson is director of development for strategic land at Grosvenor Britain & Ireland