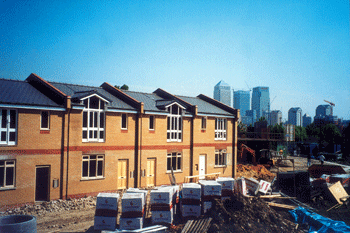 Large housing sites of 2,000-or-more dwellings take on average over eight years to deliver their first home from submitting the initial planning application, research reveals.
A new study by the planning and development consultants Lichfields has looked at how long it takes for sites of differing sizes and characteristics to deliver homes.
They found that the largest sites - over 2,000 homes - have not typically delivered within the window for local authorities' crucial five-year land supply statements.
They take on average more than eight years from initial planning application to start delivering homes.
Start to Finish was based on an analysis of 97 sites over 500 dwellings of which 35 of the sites were earmarked for 2,000 homes or more. The 97 sites equate to more than 195,000 dwellings.
The report shows that only smaller sites - under 500 homes - have consistently delivered homes within five years of submitting an outline planning application. The average is three years.
This reflects the practicalities involved in discharging conditions, servicing the site, and building new homes, according to Lichfields.
The research found a variation in average build rates, which increases with the size of site. Build rates range from an average of 22 homes built each year in sites of under 100 units, to 160 each year on sites over 2,000 homes.
Lichfields also found that schemes with more affordable housing tend to build-out faster, at close to twice the rate of those with low levels of affordable housing.
Schemes developed on greenfield land deliver more quickly than brownfield sites - by a magnitude of over one-third.
'The question of how quickly and how much housing a site can begin delivering once it has planning permission or an allocation is significant because large-scale developments are an increasingly important component of local authority plans for housing; our recent research on Garden Communities found that local authorities often rely on such schemes to deliver a third or more of the housing they require,' said Lichfields' senior director Matthew Spry
'Only deliverable sites with a realistic prospect that housing will be built within five years can be included in a calculation of a five-year housing supply by a local authority.'