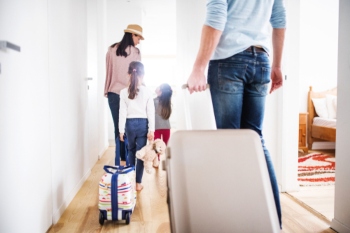 There has been a 1,000% increase in the number of homes listed for short term lets in the past six years, a charity has warned today.
Research by the CPRE shows that between 2015 and 2021 there has been a 'surge' in short stay holiday rentals, which is 'crippling' the residential market particularly in staycation hotspots and rural areas.
It argues that social housing waiting lists could be eliminated or drastically reduced if these properties were available for local families. The analysis shows in September 2021, there were 148,000 homes available on Airbnb-style lets. At the same time, 176,000 rural families were on social housing waiting lists.
The countryside charity is calling for higher council tax on second homes and the requirement for short term lets to have planning permission.
Crispin Truman, chief executive of CPRE, said: 'Across our most traditional rural communities, from the beaches of Cornwall to the lakes of Cumbria, homes that used to be rented to local families sit empty for much of the year. More people are pushed onto social housing waiting lists, which have been stretched to breaking point by years of underinvestment.
'Hard working people are suffering and they will not easily forgive a government that promised to level them up if it leaves them falling through the cracks of a broken system.
'It's clear the Government needs to act fast to avert a growing housing crisis. With the cost of living set to hammer people's finances in the coming year, this is a problem that's quickly getting out of hand. There simply has to be a government response to the fact that our rural housing supply is disappearing into an unregulated short-term rentals market that simply didn't exist six years ago.'
CPRE also found that demand for social housing in rural areas was growing nearly six times faster than the rate of supply. This means that at current rates, the backlog of low-income families needing accommodation would take 121 years to clear.