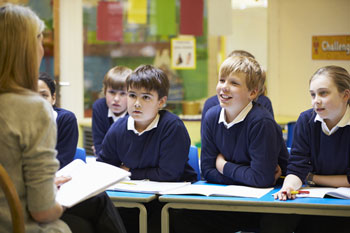 Over seven million children were back in schools and colleges last week as part of the first step in the Government's roadmap out of lockdown.
Primary schools opened to all pupils on Monday 8 March, and as of Monday 15 March, 94% of children were back in the classroom.
Secondary schools had the option to stagger the return of their students over the week beginning 8 March to help facilitate testing for students before they returned to education.
As of 15 March, 89% of secondary school pupils were in school, the highest rate of attendance since the start of the pandemic.
'It is fantastic to see the overwhelming majority of children have now returned to the classroom, with all the benefits that face-to-face contact with their teachers and friends is proven to bring,' said education secretary Gavin Williamson.
'I do not underestimate the preparation that has taken place to ensure our children could return safely and continue with their education and I am so grateful to the teachers and school staff who have made the transition so seamless – as well as managing testing and maintaining all the wider protective measures still in place to help keep everyone safe.'