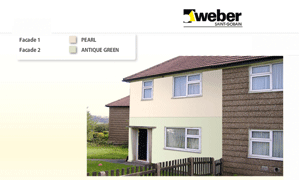 The new Saint-Gobain Weber Façade Colour Simulator allows construction professionals and property owners to create a realistic impression of a building in a single colour, or in combinations of colours, in a matter of minutes.
Visitors to www.netweber.co.uk should select the Colour Simulator tab, upload an image of the specific building or project, and by following the simple prompts it is easy to experiment with colours to create the perfect scheme. A choice of render systems offers 24 monocouche colours, 23 weber.therm XP M1 render colours and over 250 colours in the synthetic finish range. This wide colour collection provides endless opportunities to colour different façades with up to three different colours.
Alternatively there is the option to select a property from a library of standard building types and a variety of non-traditional housing types to create a digital overlay.
Select the required building type, chose the Weber render product and colours for Façade 1 and Façade 2, view the scheme and print the image.
Tel 08703 330 070
08703 330 070 or visit www.netweber.co.uk