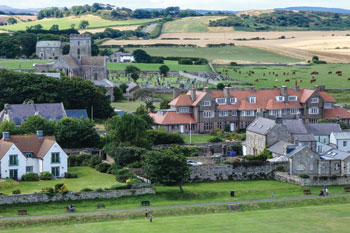 The allocation of levelling up funding is 'overlooking' rural communities, a report has claimed today.
The report, published by the Rural Services Network, argues the way the Government is allocating funding is failing to recognise the needs of rural communities and instead favours 'Red Wall' areas.
Towards the UK Shared Prosperity Fund finds only 18 rural authorities are on the Government's priority list for funding. It says that 27 authorities should be on this list if low standards of living in rural communities were properly accounted for.
The report, commissioned from Pragmatix Advisory, recommends that future Levelling Up funds should be allocated between local authorities on the basis of an assessment of living standards achievable by people living and working in each district.
Graham Biggs, chief executive of the Rural Services Network, said: 'Currently, the way in which government allocates spending spatially is failing to unlock the opportunities rural areas can offer to the nation.
'Whitehall needs to keep it simple. Allocate Levelling Up funds to where living standards, and economic opportunities, are lowest – regardless of whether these are in the North or the South, or in towns, cities, conurbations or in countryside.
The process simply needs to be fair, transparent and demonstrably based on need.'