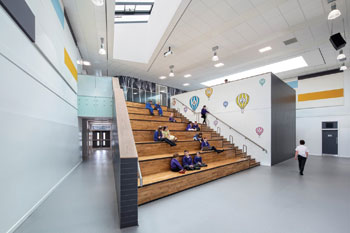 In June, the Department for Education (DfE) revealed details of its offsite construction framework, which is designed with the intention of partnering with suppliers in order to 'deliver right first time, offsite manufactured schools, based on flexible template designs which are efficient to produce and value for money'.
This framework has been developed in order to enhance the adoption of innovation, and expedite the modernisation of the construction industry by speeding up the wider take up of modern methods of construction (MMC). This is in line with the Government's wider commitment to MMC and its favouring of offsite construction across appropriate capital programmes, where it represents best value for money.
I wholeheartedly support both the introduction of the framework and the Government's overall drive towards making MMC more mainstream. Construction has not significantly changed in the past 100 years, but we're currently in the – relatively - early stages of a transformation that will radically alter the way the world around us is constructed.
It is only natural that this transformation should come to bear upon the building of schools, which play such a critical role within the fabric of society.
One key aspect of MMC is digital construction, which we define as the generation and managing of information on a project during its entire life cycle, to create both the digital and built assets. The impact of digital construction is already being widely felt in public sector construction projects, and its importance will only grow in the years ahead as more local authorities realise the significant benefits it provides on each project it is used.
A key job for passionate advocates such as myself is communicating to decision makers not only the impact it is already having but also its vast potential to further radically alter how we construct the built environment. An appreciation of this is key for local authorities to understand how such technologies can help them deliver better and more sustainable buildings for the communities throughout the country that they serve.
Through use of an 'information masterplan', digital construction helps us maximise the value and efficiency of a project, increasing collaboration and accountability through the use of a single source of information. By connecting everyone involved in a project, it allows for improved consistency, supports decision making and reduces risk throughout the design, construction and operation stages.
During design, the decision making process that is so pivotal to any development is hugely improved by technology, enabling the opportunity to construct the building brick by brick, and to explore different scenarios and confirm it fulfils all of the required needs.
Further efficiencies are driven by digital construction's ability to provide early visibility of costs, ensuring full transparency and allowing full certainty of how the schedule will proceed once the project is underway. The unparalleled levels of certainty for clients on projects that have huge importance to local people cannot be underestimated.
This was particularly important for a project we recently worked on for West Dunbartonshire Council, which involved building a new state-of-the-art 53,280 sq ft campus which would enable three schools to co-locate in a modern and collaborative working environment in the town of Balloch, located at the foot of Loch Lomond.
The £16m project involved the coming together of two non-denominational schools and a Catholic school into a single campus, with the integration of an additional support needs unit as well as an early years facility. Particularly important for the client were open plan and transitional teaching spaces within the primary school building, with the opportunity for transition for the nursery and additional support needs offering.
Naturally the different schools and stakeholders had to be assured their educational offering would not suffer as a result of their new campus arrangement. That's why the deployment of digital construction on this project was so beneficial – it allowed the staff and wide variety of stakeholders the opportunity to stand within a 3D rendering of the design using VR and Google Cardboard.
This enabled changes to screens and teaching points to be agreed and abortive works during the construction process to be avoided. Given the different needs that had to be addressed to successfully deliver the project, the use of virtual reality was invaluable in providing certainty to stakeholders that their needs were going to matched by the end product.
Additionally, digital construction allows the location of elements such as lighting to be purposely configured to ensure they are located in accessible and cost and energy efficient areas. This is just one small example of how the day to day running of the building is fully factored in order to provide an improved model of sustainability.
When on site, the use of digital construction means that once work begins the build programme incorporates an unparalleled level of control and knowledge over how the schedule will proceed. The use of digital fabrication – the process of turning data into objects through technologies such as 3D printing, CNC (computer numerical control) machining and laser cutting – is crucial. The use of such highly efficient technologies can greatly reduce run times, reducing the risk of costly delays further.
Deploying these technologies not only results in high quality buildings at the point of completion, but brings improved functionality for the entire lifecycle. The data and 3D models produced throughout the process result in an indispensable repository of information that can be accessed at any point, and can be vital when planning the operation, maintenance or reconfiguring of the building in question.
As part of the handover at the end of the project, clients can be walked through how best to use the operations and maintenance information, building user guide, compliance certificates, and training videos. This allows the information to be examined in a more efficient manner, and remotely if required, allowing any issues to be resolved quickly.
As a consequence, there is a reduced need for retraining or delays in sourcing essential component information, and allows teaching and maintenance staff to feel at home in their new school faster with an increased sense of ownership.
The use of digital construction and other modern methods of construction will be pivotal to creating better buildings for every aspect of our lives, and will play a key role in helping to build a stronger society with a real sense of civic pride. The impact is already being felt and in the years ahead it will grow exponentially, and any local authority that wants to better support the communities they work for cannot afford to be left behind.
Lee Ramsey is design management and BIM director at Morgan Sindall Construction