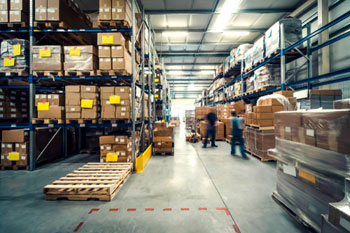 Local planners should take into account their role in the national logistics network when they are expanding their housing stock, a new report says.
The British Property Federation (BPF) has published a study examining the relationship between new housing and warehousing across England.
It finds that there is currently 69 sq ft of warehouse floorspace per home in England.
Warehousing is an essential part of a country's logistics network and is necessary to ensure the movement of goods to and from businesses and people.
If the Government successfully delivers 300,000 new houses per year, as it hopes to do, the current warehouse to housing ratio would have to be maintained.
The BPF calculates that this would require 20.6 million sq ft of additional warehouse floorspace being made available annually—the equivalent of 280 football pitches each year.
'Few realise what a vital part warehousing and the logistics sector plays in our everyday lives,' said BPF chief executive Melanie Leech.
'Warehousing does more than just ensure that online deliveries arrive on time, it also creates skilled jobs and delivers significant economic growth.
'The Government is under a lot of pressure to deliver new housing—and while this is important, a balanced approach to planning for sustainable communities must be taken.'
'Policy makers should take this report seriously,' said Ms. Leech.
'Although different regions will clearly have different requirements and capacities for growth, it gives us a clear and simple picture of the volume of warehousing required to service our society at large, and we urgently need this in order to make sure that decision-makers and planners can respond and create sustainable communities that bring benefits to both existing residents and newcomers.'