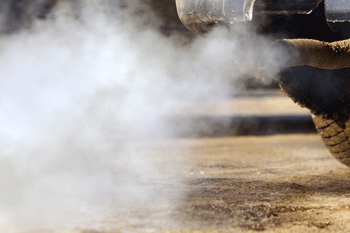 Drivers must be able to check the status of their car's exhaust emissions quickly when councils bring in new schemes to cut pollution, the RAC has warned.
It says millions of drivers have no easy way of knowing how they might be affected by the future roll-out of clean air zones in the UK which will set 'Euro standard' for every vehicle.
The RAC says the Government should create a website that allows every UK driver to check their vehicle's emission standard by entering its registration number – a service already offered in several other European countries.
RAC spokesman Rod Dennis said: 'As councils across the UK develop plans to tackle harmful emissions on a local level, we expect millions of drivers will want to find out the Euro emissions category of their vehicle – and the natural place to look will be on the official government website.
'We've already seen a big increase in traffic to our own website from people trying to find this information and to understand more about what the Euro emissions standard actually means.
'It is simply unacceptable that there is currently no easy-to-use or conclusive online look-up system available – this will no doubt leave drivers confused about whether or not they are likely to be impacted by the introduction of clean air zones.'
Cllr Martin Tett, the Local Government Association's transport spokesman added: 'It's essential that government and manufacturers work together to make sure that vehicle emission standards are clear, up front, and reflect the actual emissions released, as this will help motorists play their part in making sure that our communities have cleaner air.'