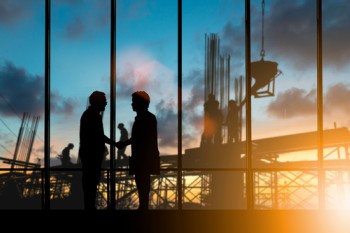 The construction industry has a crucial role in supporting local jobs, businesses and economies. As well as building the vital local infrastructure needed to improve social and environmental impact, the sector also contributes significantly in local taxes.
Research has shown that for every £1bn increase in infrastructure investment, UK-wide GDP increases by a total of £1.3bn. Furthermore, for every 1,000 jobs that are created in infrastructure construction, wider employment rises by over 3,000 jobs.
Construction and maintenance businesses undertake a huge amount of work directly for local authorities, or undertake work along the supply chain. This is significant as at any given time, councils will owe payment or retentions monies to local businesses for the work they have done. However, the outbreak of Covid-19 has had a substantial impact upon the construction sector, as it has had on many others, meaning that cashflow is more important than ever.
Work has paused on many sites or it has been streamlined and adapted in order to comply with public health guidelines and industry-wide site operating procedures.
Many firms have furloughed staff and are applying for the major package of financial support offered by the UK Government to support their businesses during these challenging times. Such support is welcome, but many businesses are concerned about their ability to weather the commercial and social storm brought about by coronavirus, in the coming months and beyond.
Contractual disputes
There is plenty to be concerned about, for everyone involved. Notably, there is the risk of being embroiled in costly and long-running disputes over the effects of the pandemic on projects if we do not look to engage in collaborative discussions and try and resolve such issues as and when they arise.
Without proper fair and reasonable administration of construction contracts, Covid-19 will have a highly detrimental effect on a construction supply chain which is expected to play a central role in helping local economies recover from the effects of the virus.
Last month the Construction Leadership Council - the Government-backed group which draws together business leaders from across the sector to identify and address challenges - published a statement on how the pandemic could negatively affect payment and contracts. In doing so, it urged all parties – including councils - to recognise the unique circumstances we all face.
To support this ambition, the CLC has produced practical guidance for industry, which complements that already established by the public sector to mitigate the impact of Covid-19 for the long -term.
Government PPN 01/20: Responding to COVID-19, PPN 02/20: Supplier Relief due to COVID-19 and PPN 02/20: Additional guidance, FAQs and model terms for construction encourages public sector bodies to support construction supply chains through positive, collaborative approaches to payment, and the revision of contractual clauses.
This includes local authorities promptly paying suppliers within a matter of days, rather than holding onto payment for longer periods, and for retention monies to be paid as soon as practically possible.
Best practice
The CLC Covid-19 Contractual Best Practice Guidance provides examples on the types of issues that are likely to arise, together with practical advice on how to resolve them in a constructive manner. Its aim is to work in tandem with guidance published by the UK Government on driving responsible behaviour in the performance and enforcement of contracts impacted by the Covid-19 emergency.
Our document is a guide and while it is not intended to cover all contract types and all issues, it may be helpful to local authorities, in support of PPN 02/20 and helping to maintain supplier capacity and relationships in the future.
In the light of the pandemic we hope that industry and local authorities will come together to minimise potential disputes in order to secure prosperity for the long-term.
It is imperative that we all respond to the unprecedented situation we find ourselves in and work collaboratively through the many challenges ahead, to protect local jobs and businesses, and future delivery of projects and services, through our supply chains.
Steve Bratt is group chief executive officer at Electrical Contractors' Association