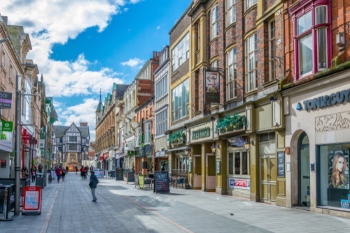 New research has warned 80% of shops and other commercial premises on high streets across England could be lost under the expansion of permitted development rights.
The report, published by the Town and Country Planning Association (TCPA) and University College London (UCL), warns the changes to planning law could have a 'devastating impact' on high streets and town centres.
Examining four case study areas – Barnet, Crawley, Huntingdonshire, and Leicester – the research found 80.3% of shops and other commercial buildings could be lost to residential conversion.
It warned that changes means councils have very little say over what happens to their high streets and whether new housing meets people's needs.
Fiona Howie, the TCPA's chief executive, said: 'We recognise the need for more homes and the desire to regenerate high streets. But we need new homes to be high quality and for town centres to be able to provide a mixture of services and amenity space.
'This latest expansion of PDRs further reduces the ability of local authorities and communities to shape their local areas. This is not the right approach if government really wants to 'build back better' and to revitalise our high streets.'
Photo: trabantos / Shutterstock.com