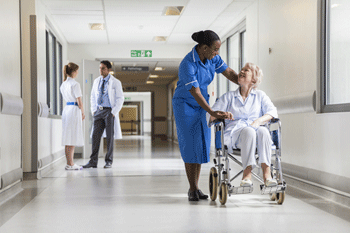 So, here's a great shocker for you. The health and social care crisis continues. There are huge gaps in the funding of social care. And there are huge gaps in care and the system isn't working.
And whilst I remain politically neutral at all time, especially right now, I did notice, the Liberal Democrats in their recently announced manifesto, identifying saving the UK's struggling health and social care sector as a priority. I am sure other parties will have something similar when they publish their manifestos too.
On Saturday, the Lib Dems announced they would invest an extra £6bn a year in the NHS and social care system, as reported in LocalGov. This would be paid for by an immediate 1p rise on all rates of income tax. They also promised their manifesto would contain a 'five-point recovery plan' for NHS and social care services. All pretty standard stuff in an election. And better, they propose to establish a cross-party health and care convention that to promote a sustainable and integrated health and care system. Oh and an independent office of health and care funding to monitor health and care budgets
Sounds simple doesn't it? No I agree with you, it certainly doesn't. And there is a fundamental reason why.
I'm sure that people who know me would say I'm an optimist (often berated for this but will continue anyway) and always try to look for the positives in life. However, the harsh reality is that for too long we've been reluctant to admit it. There isn't a solution to the crisis. Sorry to go against my very nature.
In the local government finance settlement, the Government confirmed councils will be allowed to increase council tax by 6% over the next two years to fund social care services. A move which would help generate an addition £652m by 2020. Councils will also have access to a £240m adult social care support fund.
However, even if all councils imposed the full precept it still leaves a funding gap of more than £2.6bn by 2020. And that's a big gap. A very very big gap.
Back to the Lib Dems £6bn. Now while £6bn a year is a lot of money - how would having such an amount of money to spend on social care work in practice. And how budgets would be allocated is a bit of an unknown to me. Based on relative affluence in one area pitted against another. High cost areas v low cost areas. Healthy v unhealthy? Some big ones there that few have looked at yet. Also being a bit more honest than my neutral stance allows, while there have been some huge shocks in politics over the past few months the chances of Tim being the next PM is a bit slim. But you never know.
This crisis is happening right now. Local authorities are looking at ways to reduce the financial deficit – clever telemedicine, in-home support, innovative ways of working, integrated solutions across all partners private and public, use of technology and utilising the third sector. But it still leaves a big gap. And the real issue is one of massive society changes over the past 20 years. We are all living longer, have less sense of community and want to do our own thing and not look after our older family members in a way we used to. Or in a way many societies do abroad. Would you expect Nonna in Italy or the equivalent in Greece not to be looked after by their family? Of course, not.
So its basically your fault!
With that in mind, what does the future hold?
The truth is that technology and medicine is makes us live longer, and in some cases resulting in more complex needs that need to be cared for. However, we don't have the money to pay for our longevity. We need more capacity as well as new models of care – not just nursing homes. We also need to recognise this is our problem and not one the government of any type to solve.
The harsh reality is that the younger generations must shift their lifestyles to accommodate looking after older generations. Inevitably this will mean new types of businesses springing up to offer different services. We also need a better understanding of segmented needs along with matching resources to determine new ways for us to do things. Oh and not looking the other way.
The future of health and social care is uncertain but one thing that we can be certain of is that the challenge is not going away.
Mike Gill is partner at Libre Advisory and best-selling author of How to Survive Austerity.